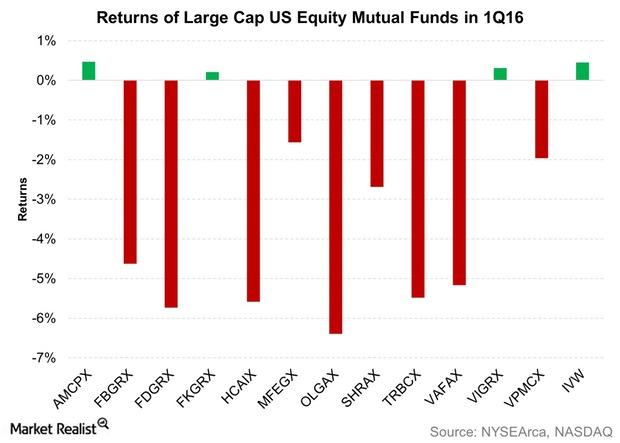 How Do US Large-Cap Equity Mutual Funds Look after 1Q16?
By David Ashworth

Nov. 20 2020, Updated 11:37 a.m. ET
No lack of activity in the equity market
As 2015 faded into the past, you may have thought to yourself: What an eventful year! Greece, China, and oil caused all sorts of volatility in the market. There was also a debate about whether the Federal Reserve would hike rates.
The central bank finally did raise the target range of the federal funds rate by 25 basis points to 25–50 basis points on December 16, 2015. Though the liftoff took place before 2015 ended, we think it was more about salvaging some of the central bank's credibility than about fundamentals.
Few came into 2016 expecting the events that took place in the very first week. Though there was a general expectation that volatility could be higher in the year, the way events unfolded took most market participants by surprise.
Article continues below advertisement
China, oil, and…
China and crude oil prices (WPX) (PE) (QEP) continued from where they had left off in 2015. The weakening of China's economy rattled financial markets around the world, and a fall in crude oil prices until February 11, 2016, had market participants worried.
Even the Fed took notice of the global developments and decided not to be as aggressive on rate hikes in 2016 as it had indicated in December 2015.
Among developed markets, the ECB (European Central Bank) surprised markets by announcing aggressive stimulus measures in March 2016. On the emerging market side, apart from China, Brazil was in the news as its equities soared on hopes that President Dilma Rousseff would be impeached.
Brazil's lower house voted for impeachment proceedings to begin, and the motion will now go to Brazil's Senate. Meanwhile, India announced its budget, with a focus on the country's large rural population and inclusive growth. The nation's central bank reduced its key rate further in April.
US large-cap equity mutual funds
In this series, we'll look at 1Q16 as it resulted for some of the largest US large-cap equity mutual funds. As can be seen in the graph above, 1Q16 was a mixed bag, with a few funds scraping out gains.
Our analysis of 12 US large-cap equity mutual funds (FMAGX) (IEOPX) won't just be confined to return performance. We'll look in depth into the portfolios of these funds and conduct attribution analyses to see which sectoral or stock picks helped or hurt funds.
We'll benchmark the performances of the funds to the iShares S&P 500 Growth ETF (IVW) to see whether active funds have done better than this passive one.
We'll begin our analysis with the American Funds AMCAP Fund Class A (AMCPX).