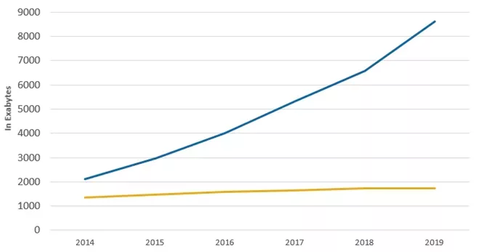 Understanding the Key Drivers for the Data Center Business Segment
By Adam Rogers

Updated
Cloud to account for 83% of data center traffic in 2019
The revolution of digitizing enterprises generates huge amounts of data over networks. This forces network providers to find alternate approaches to their existing network architectures. According to Cisco Systems' (CSCO) Global Cloud Index total data center, traffic is expected to reach 10.4 zettabytes in 2019 from 3.4 zettabytes in 2014.
Data center traffic from the cloud will likely account for 83% of the total data center traffic in 2019, as compared to 61% in 2014. Machine-to-machine communication should also proliferate data flow across devices, along with BYOD (bring your own device). In turn, these will create a requirement for network and computing platforms.
Kelly Ahuja, Cisco's Senior Vice President, stated that "service providers are looking to leverage the operational best practices established in massively scalable computing environments and marry them with their own networking reach to compete and innovate faster."
Article continues below advertisement
Expectations for the modular data center market
By 2020, the modular data center market is expected to reach ~$35.1 billion from ~$8.4 billion in 2015, according to the research firm MarketsandMarkets. (A modular data center is a portable method of deploying data center capacity.)
Existing vendors including Cisco, Dell, IBM (IBM), and Hewlett Packard Enterprise (HPE) will be looking to increase market penetration and revenues by leveraging exponential growth. Developing countries such as India (INDA), Brazil, and China (FXI) are expected to lead growth in the modular data center market.
The SDCC (software-defined data center) market is also forecasted to rise to ~$77.2 billion in 2020 from nearly $21.8 billion in 2015, a CAGR (compounded annual growth rate) of 28.8%.
Now let's move to the wireless network market.