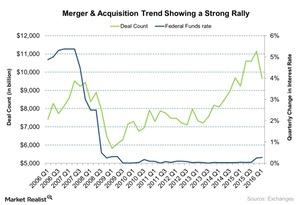 What's the Mergers and Acquisition Trend Showing?
By Sarah Sands

Apr. 22 2016, Updated 10:06 a.m. ET
Mergers and acquisition trend
The M&A (mergers and acquisition) (MNA) (MRGR) trend showed a rally since 1Q09. This rally continued until 4Q15. In 4Q15, the M&A deal was $11,150 billion. This quarter, the M&A deal is the highest quarterly M&A deal in the last ten years.
Companies do M&A to sharpen their business focus and diversification. It also helps them increase their performance and productivity. At times, companies do M&A deals to eliminate competition and gain a huge market share. To do an M&A deal, companies need free cash. The current cash holdings position of S&P 500 index (SPY) (QQQ) (IWM) companies is comparably higher compared to 2007. You can see this from the current level of the buyback position.
Article continues below advertisement
Quarterly change in interest rate
The Fed maintained its key interest rate at a near-zero level since the 2008 global financial crisis. Before the crisis, the interest rate was comparatively higher. The S&P 500 index's M&A deal count was at $9,000 billion in 2008. As the interest rate fell, the M&A deal had a strong performance until 4Q15. The recent rate hike by the Fed in December 2015 after nearly a decade, increased the anticipation among Market participants. They think that the Fed will tighten its key interest rate more in the near future. The M&A deal count level fell in 1Q16.
To learn more, read Global Economic Indicators Suggest Limited Upside for Global Markets.