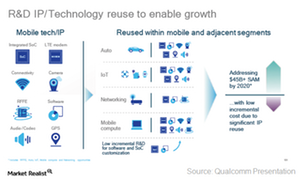 Qualcomm Eyes Adjacent and Niche Markets for Future Growth
By Puja Tayal

Updated
Qualcomm eyes new revenue streams
We've seen that Qualcomm's (QCOM) revenue growth in licensing will be offset by falls in mobile chipsets in fiscal 2Q16. The International Data Corporation expects the growth of smartphone shipments to slow from 10.4% YoY (year-over-year) in 2015 to 5.7% YoY in 2016.
While the increase in RF (radio frequency) content provides an opportunity for Qualcomm, it's unlikely to boost growth in the long term. Because of this, the company is looking to create new revenue streams in adjacent markets where it can use its ARM chips.
Qualcomm is looking to serve the networking, IoT (Internet of Things), automotive, and data center markets. Let's see what progress the company has made in these segments.
Article continues below advertisement
Adjacent market licenses
Going by its model, Qualcomm is licensing its technology in adjacent markets. It has licensed its Halo wireless electric vehicle charging technology to the United Kingdom's (EWU) Ricardo. Under the agreement, Ricardo will manufacture and supply the technology to its automotive customers, and Qualcomm will provide engineering support.
Qualcomm has also licensed its 3G (third-generation) and 4G (fourth-generation) technologies to China's (MCHI) Gree Electrical Appliances' subsidiary Zhuhai EWPE Information Technology for smart connected appliances.
Qualcomm is looking to design ARM chips for the data center market. It has partnered with the Guizhou province and Red Hat (RHT) for server chips.
New technologies
Qualcomm is also moving into new technologies such as VR (virtual reality) and drones. The company has launched a VR-ready Snapdragon 820 automotive chip. An even more promising market is AR (augmented reality). Intel (INTC) is already working with Microsoft (MSFT) on MSFT's AR project, HoloLens. Digi-Capital forecasts that the VR market will grow to $30 billion and the AR market will grow to $120 billion by 2020.
QCOM is eyeing the drone market as well. It recently received the Federal Aviation Administration's certification to fly drones for research purposes at its San Diego facility. It will test its Snapdragon Flight SoC (system-on-chip) designed for drones. According to MarketsandMarkets, the global UAV (unmanned aerial vehicles) drones market is expected to grow at a CAGR (compound annual growth rate) of 32.2% to reach $5.6 billion by 2020.
These new technologies will not produce any short-term gains for Qualcomm, but they give a bright outlook to the long term.
Amid these changes, Qualcomm has seen the departure of some of its key executives. Intel and AMD have also lost a few of their top management executives. We'll shed some light on this in the next part of the series.