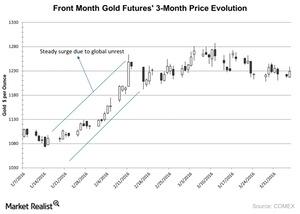 What Are Precious Metal Analysts Saying About Gold?
Non-interest-bearer
The returns of precious metal mining-based shares or mining companies are often amplified compared to the precious metals themselves. Gold and silver have risen 15.7% and 9.3%, respectively, on a year-to-date basis. Mining-based ETFs such as the Global X Silver Miners ETF (SIL) and the VanEck Vectors Junior Gold Miners ETF (GDXJ) have seen considerable gains as well. These two funds rose 42.4% and 47.4%, respectively, on a year-to-date basis.
Article continues below advertisement
The sputtering gains in gold have lured investors around the globe and many Market analysts. Optimism for gold is remaining strong due to a probable delay in another interest rate hike by the Federal Reserve. Interest rates and gold prices are said to follow an opposite route. The higher the interest rate, the lower the demand for non-interest-bearing gold, and vice versa.
Analysts' views
Phil Streible, senior market strategist at RJO Futures in Chicago, commented on a delay in an interest rate hike, saying "It seems very negative for the U.S. dollar and the economy and positive for gold. Easy money will be around for a lot longer."
Sameer Samana, a quantitative strategist at Wells Fargo Investment Institute, said the volatility in the Gold Miners Index has been twice as much as gold. Samana was likely suggesting that investors move their money into gold and away from miners.
The gains in gold can be tracked by way of investments in gold-based mutual funds such as the EuroPac Gold Fund (EPGFX), the American Century Quantitative Equity Funds Global Gold Fund (ACGGX), and the Wells Fargo Precious Metals Fund (EKWAX). These three mutual funds have risen 37.6%, 44.7, and 42.7%, respectively, on a year-to-date basis.
Next, let's see why some investors are so interested in gold.