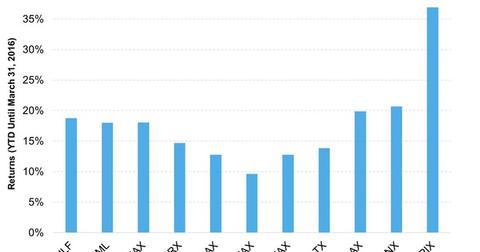 Passive Funds Look Well-Matched with Brazilian Equities for Now
By David Ashworth

Updated
Performance of passive funds
The iShares MSCI Brazil Capped ETF (EWZ) is the most frequently traded ETF that invests in Brazilian equities. The fund's total returns for 1Q16 stood at 28%. Among the sectors, financials posted the highest total return in the period—very much like the Ibovespa—but second place went to telecom services stocks (VIV) (TSU). The energy sector was a close third. The fund's performance reflects that of the MSCI Brazil 25/50 Index, the fund's underlying index.
Article continues below advertisement
The iShares Latin America 40 ETF (ILF) invests in Latin American stocks. Brazilian equities form 47.1% of the fund while Mexican equities form 35.5%. The fund's total returns for 1Q16 stood at 18.6%. Financials posted the highest total returns for the period. However, compared to returns posted by financials comprising EWZ, they were much more muted due to their more diversified exposure (CIB) (BSAC).
The iShares MSCI Emerging Markets Latin America ETF (EEML), which also invests in Latin American equities, has 49.5% of its assets invested in Brazil and 34.1% in Mexico. The fund has returned 19.2% in 1Q16.
Performance of active funds
Several actively managed mutual funds invest in the Latin American region. For the purpose of comparison, we have taken the three largest mutual funds by asset size.
The total returns of the T. Rowe Price Latin America ETF (PRLAX) stood at 21% for 1Q16. The Fidelity Advisor Latin America Fund – Class A (FLFAX) and the Deutsche Latin America Equity Fund – Class A (SLANX) have returned 13.1% and 21.6%, respectively, during the period.
Article continues below advertisement
Observation
As can be seen from the graph above, which shows point-to-point instead of total returns, only three of the nine actively managed funds were able to outperform ILF. Investors should note, however, that return performance in itself is not enough. We recently performed a fund-by-fund analysis of nine Latin-America focused mutual funds in which we looked at quantitative metrics of these funds to see which has benefited the most from the rally in Brazilian stocks.
We can say that the stellar returns provided by EWZ are minus any fundamentals. Investors invested in passive funds focused on Brazil should only have a short-term horizon. If you believe that Mexico will be the main driver in the medium term, you can consider broader passive funds like ILF and EEML.
For now, investing in active funds may not the ideal option. For those investors who are already invested in mutual funds, if you have a top-performing fund, then you may consider reducing exposure before the tide in Brazil turns. On the other hand, if your fund has been an underperformer, you may wish to consider liquidating or remain invested at least for the medium term, or up to five years.
From Latin America, let's move to the R in BRIC: Russia.