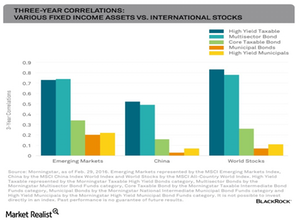 Why Municipal Bonds Correlate Very Little with Other Asset Classes
By Peter Hayes

Apr. 26 2016, Updated 7:06 p.m. ET
And so we ask:
Are you worried about how slowing growth in China and general geopolitical unrest beyond U.S. borders might impact your portfolio?
An investment in municipal bonds means investing at home. Munis are issued by U.S. states and their political subdivisions only. They have zero to minimal correlation with Chinese equities, other emerging markets or any non-U.S. stock market.
Article continues below advertisement
Market Realist – Munis are better options during global uncertainty
As the Chinese economy takes a beating and in turn affects US markets, investors need to tread cautiously and look for better investment avenues. Municipal bonds or "munis" are one of the better alternatives that are less impacted by volatile equity markets. Municipal bonds (MUB) are issued by states, towns, cities, counties, school districts, hospitals, transportation authorities, road and highway authorities, water districts, and power districts to fund their operations or any public projects—such as the construction of schools, hospitals, highways, or sewer systems. Higher taxes coupled with a low-yield environment make tax-exempt municipal bonds (SUB)(CMF) more popular.
Historically, investment-grade and high-yield municipal bonds (NYF) have correlated very little with most of the other asset classes. At times, the correlation was as low as zero, which indicates that munis could offer better portfolio diversification. According to FactSet data for the five-year period ended September 2013, the Barclays Municipal Bond Index had zero correlation with the S&P 500 Index, a -0.01 correlation with the Russell 2000 Index, and a 0.16 correlation with MSCI Emerging Markets Index.
On the other hand, a study by Morningstar for the past 15 years, ended March 2016, shows that Barclays High Yield Municipal Bond Index has a 0.23 correlation with the broader bond market. The Barclays High Yield Municipal Bond Index's correlation with US equities almost remained at par with the broader bond market, at 0.24. Though municipal bonds' correlation with emerging markets rose to 0.30, it's still very minimal. You can see from the data that despite China's slowing economy wreaking havoc on the global markets, it has a very limited impact on the municipal bond markets. Plus, as the markets experienced a lot of volatility, municipal bonds offer significantly better returns than other asset classes.