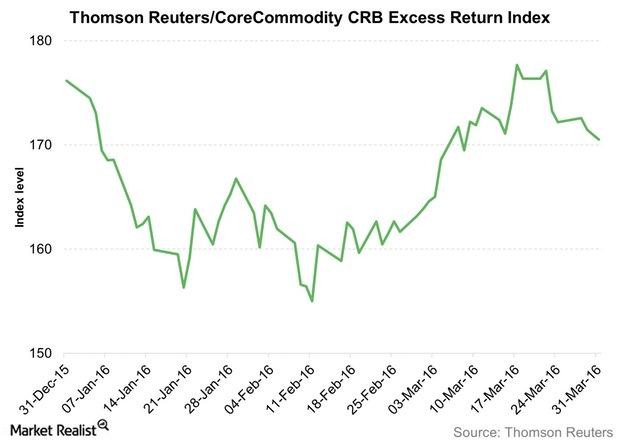 Latin American Funds Surging as Brazilian Stocks Are on a Tear
By David Ashworth

Apr. 5 2016, Published 12:44 p.m. ET
Brazilian stocks are fueling the Latin American funds rally
In the opening article of this series, we mentioned that Brazil has been facing economic trouble. So, why are its financial markets rallying? For one, commodity prices have had a better time in 2016 since they reached their nadir in mid-February. Both the Thomson Reuters/CoreCommodity CRB Excess Return Index and the Thomson Reuters/CoreCommodity CRB Ex-Energy Index (Total Return) are up year-to-date in 2016.
The primary reason for optimism for Brazilian stocks (EBR) (ELP) (SBS) is the hope that the country's president, Dilma Rousseff, will be impeached soon, bringing political stability to a nation where moving stalled economic reforms ahead is a priority.
Article continues below advertisement
Latin American funds
We recently performed a fund-by-fund analysis of nine Latin-America focused mutual funds in which we explored the quantitative metrics of these funds to see which has benefited the most out of the rally in Brazilian stocks.
The effects of a surge in Brazilian stocks is visible in Latin American funds (UBPIX) (SLANX). However, the rally reminds one of the rally in Chinese stocks in the first half of 2015. Both were fueled by a distorted vision rather than underlying fundamentals. Even if Rousseff is impeached and a new government is elected, the task ahead for the new government remains as difficult as it is now.
The rebound in Brazilian stocks is also quite sharp because of their forgettable performance in 2015. It seems like the laws of physics are working here—a thorough beat-down has been followed by a sizable, though not equal, rebound.
Currently, Brazil's economic fundamentals are shaky at best. Let's take a look at them in the next article.