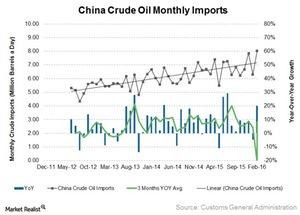 Why Crude Demand from China Is Important for the Tanker Industry
By Sue Goodridge

Apr. 20 2016, Updated 8:06 a.m. ET
China
China, the second-largest economy in the world, is a key factor in the crude oil tanker industry. China is the second-largest importer of crude oil after the United States. China's imports greatly influence the tanker demand and tanker rates, thus impacting companies such as Frontline (FRO), Teekay Tankers (TNK), Tsakos Energy Navigation (TNP), Nordic American Tankers (NAT), DHT Holdings (DHT), Gener8 Maritime (GNRT), Navios Maritime Midstream Partners (NAP), and Euronav (EURN).
Article continues below advertisement
China's crude oil imports
China (FXI) imported 335.5 million barrels of crude in 2015, which was 8.8% higher than its crude oil imports in 2014. In 2016, the crude imports are expected to remain robust. China will continue to fill its strategic reserves, and a dozen of new sites are expected to come online this year. Towards the end of 2015, the country allowed its small privately owned refineries known as teapot refineries to import crude oil from foreign sources. This will also boost China's crude oil imports. Industry analysts expect China's crude oil imports to rise by 6%–6.5% in 2016.
China oil demand
In China, transportation accounts for up to 42% of oil demand. This makes it important to look at the country's auto sales to gauge oil demand in the country. China's auto sales grew by 4.7% to 24.6 million units in 2015. Towards the end of the year, China cut taxes on car purchases to boost auto sales. The China Association of Automobile Manufacturers projects that the country's vehicle sales will grow 6% in 2016.
China's oil production
China's oil production is expected to fall by 3% to 5% in 2016 from last year, according to analysts from Nomura Holding. This would be the first decline in seven years. At the same time, China's oil demand is expected to grow, which will increase China's oil imports.