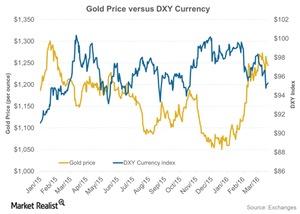 Why Some Investors Are Hot on Gold
By Meera Shawn

Updated
US dollar and gold
Some investors most likely entered a panic mode at the very beginning of 2016. With growing uneasiness in the Chinese markets, money was withdrawn from China. Also, equity markets went tumbling with the oil market rout. Currencies were vulnerable, and one option where investors could park their money was precious metals. Gold has surged a whopping 16% on a year-to-date basis. Silver followed gold, rising 9.3% on the same basis.
Changes in gold and other precious metals have been largely dependent on the US dollar in 2016. The US dollar eased 3.8% on a year-to-date basis as speculation of an interest rate hike continued. Weakness in the US dollar often gives some breathing room to US-dollar-denominated assets.
In the graph below, you can see the performance of gold compared to the US dollar. In the shorter term, the relationship may vary, but in the longer term, the relationship is expected to hold true.
Article continues below advertisement
Gold-based investments
The surge in gold has also given a breather to precious-metal-leveraged, mining-based funds such as the Direxion Daily Gold Miners Bull 3X ETF (NUGT) and the ProShares Ultra Silver (AGQ).
Gold headed for the best quarterly advance and took along with it the mutual funds that follow price directions in gold. The Fidelity Select Advisor Gold Fund (FGDAX), the Gabelli Gold Fund (GLDAX), and the U.S. Global Investors Gold and Precious Metals Fund (USERX) have risen 41.6%, 42.5%, and 35.4%, respectively, on a year-to-date basis.
With the sudden surge, there's a flux of mixed views on gold. Citigroup metals strategist David Wilson commented, "Gold's strength is probably going to be relatively short term, but there is an upside risk to gold, if the view that China is going to pull the whole world into recession becomes stronger."