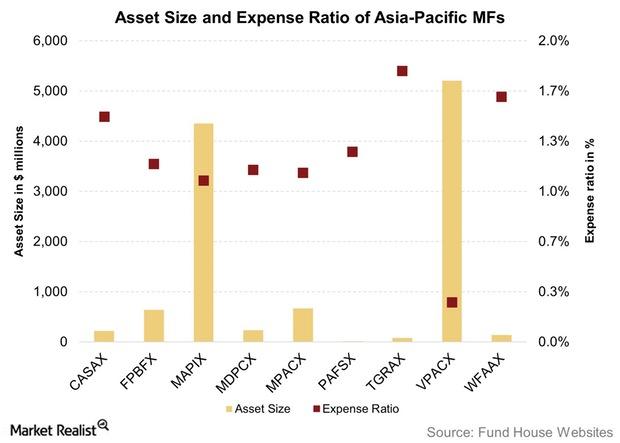 Could Investing in Asia-Pacific Give You an Edge?
By David Ashworth

Nov. 20 2020, Updated 4:37 p.m. ET
Analysis of Asia-Pacific mutual funds
For this review, we chose nine Asia-Pacific mutual funds. One of them is an index fund (VPACX) and one is dividend-focused (MAPIX). All the others have a growth focus and, along with MAPIX, are actively managed.
Along with mutual funds, we looked at the point-to-point return performance of two combinations of ETFs. The first combination is the Vanguard FTSE Pacific ETF (VPL) and the Vanguard FTSE Emerging Markets ETF (VWO). The second is the iShares Core MSCI Pacific (IPAC) and the iShares MSCI Emerging Markets (EEM).
Article continues below advertisement
The reason for looking at them in combination is that the two ETFs jointly provide exposure to the entire Asia-Pacific region. While one from each combination invests in emerging Asia, the other invests in the Pacific region, including Japan. For simplicity, we assumed that equal amounts of money are invested in each ETF of the combinations. Each combination should give you an idea how mutual funds have fared compared to the ETF combinations.
Passive combination is outperforming active funds
All but one (PAFSX) mutual fund outperformed both combinations of passive funds in 2015 as well as the one-year period until March 31, 2016, 2016. But it has been a year for passive funds so far. In 1Q16, only one mutual fund (MAPIX) was able to outperform both ETF combinations in terms of point-to-point returns.
The reason passive funds are outdoing their active peers can be twofold:
Your mutual fund manager has failed to realign the portfolio on time.
Your fund manager invests for the long term and keeps the portfolio churn to a minimum.
Remember that mutual funds are mostly bottom-up stock pickers. This means they focus on the company in question rather than looking at the country or sector dynamics to which it belongs. If your fund manager has explicitly stated that he or she invests for the long term, this can be corroborated by a look at the turnover ratio. If the ratio is high, it means your manager is changing portfolios frequently and isn't invested for the long term. If the turnover is low, however, then the fund manager can be given a longer time span to show performance.
Why Asia-Pacific?
In today's tumultuous economic times, geographic diversification has become crucial. But it doesn't need to be restricted to Europe. The Asia-Pacific region provides radically different investment opportunities in one region. Two of the four members of the BRIC (Brazil, Russia, India, and China) nations are from Asia. Asia-Pacific also includes developed economies such as Japan, Hong Kong, Australia, and Singapore. It can provide you access to frontier markets such as Indonesia and Malaysia. It will be very hard for another region to provide the diversity of the Asia-Pacific region.
In the first two parts of this series, we looked at sub-region economic growth projections made by the ADB (Asian Development Bank). That information, combined with quantitative metrics of the nine mutual funds in this review, should better equip you for investing in the region.
You'll find more top-down analysis on our Mutual Funds page.