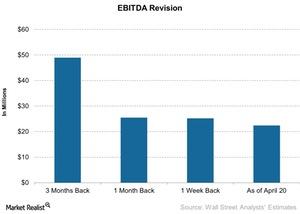 Intrepid Potash's EBITDA Margins Are Expected to Squeeze in 2016
EBITDA estimates
With little improvement in the outlook for potash prices, the unfavorable supply-demand scenario for agricultural fertilizer companies has led Wall Street analysts to revise their EBITDA (earnings before interest, tax, depreciation, and amortization) estimates downward over the past three months.
Article continues below advertisement
Downward revision
As of April 20, 2016, Wall Street analysts are estimating that Intrepid Potash (IPI) will report $22.4 million in EBITDA (earnings before, interest, tax, depreciation, and amortization) for 2016. This is about 54% below the analyst estimates of $48 million three months ago.
Following IPI's 4Q15 earnings, analysts further revised their estimate down to $26.7 million, which is about 35% below estimates before the earnings were released. Analysts then revised their EBITDA estimates to $25.4 million about a month ago and further to $22.4 million one week ago. These downward revisions appear to have moved in tandem with falling potash prices.
Margins to squeeze
As we discussed previously in this series, IPI's management stated that it will not be in compliance with its revised debt covenants. (Bear in mind that the company also uses EBITDA to measure compliance with covenants.) Therefore, the $22.4 million in EBITDA estimates for 2016 will weigh in on the covenants. IPI's 2016 EBITDA margins are expected to come in at 11%, which will be squeezed from 15.8% in 2015.
Potash Corporation (POT) on the other hand, is expected to report an EBITDA margin of 41% in 2016. Mosaic (MOS) is expected to report an EBITDA margin of 19.3%, and Agrium (AGU) is expected to report a 12% margin in 2016. Comparatively, IPI is the weakest player among these peers in the agricultural fertilizer sector (MOO).
In the next part, we'll examine Intrepid Potash's potential loss per share in 1Q16.