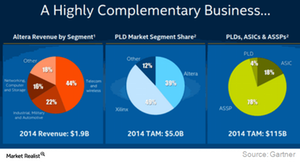 Intel Moves along the Semiconductor Supply Chain to Boost Growth
By Puja Tayal

Apr. 25 2016, Updated 7:04 a.m. ET
Intel diversifies in new areas
In the previous part of the series, we saw that Intel's (INTC) entry into the memory market has come at a time when the market is in a transitional phase, wherein short-term growth is unlikely and long-term growth prospects are bright.
Intel's other three new segments haven't yet reached the revenue threshold to be marked as separate segments, but Intel believes that they will gradually grow to that level. Let's look at the company's plan for each of the three segments.
Article continues below advertisement
Programmable Solutions Group
This group includes Altera's FPGA (field-programmable gate array) technology. It aims to tap the $1 billion annual market for stand-alone FPGAs as server coprocessors. With this group, Altera will continue to compete with Xilinx (XLNX) in the FPGA space.
Intel will also use Altera's technology to improve the performance of its data center, memory, and IoT (Internet of Things) chips.
Intel Security Group
This group includes McAfee's security software products, later rebranded as Intel Security Solutions. Its product portfolio will include security solutions for computers, mobile devices, and networks.
Intel is moving along the supply chain and leveraging the technology both by integrating the technology with its processors and by selling the technology as a standalone product.
Looking at the examples of memory chips, security software, and FPGAs, Intel will integrate them with its processors. It will also sell them as standalone products through its business segments.
New Technology Group
This group includes Intel's efforts in niche markets such as quantum computing and drones. MarketsandMarkets Research expects the global UAV (unmanned aerial vehicles) drones market to grow at a CAGR (compound annual growth rate) of 32.2% to reach $5.6 billion by 2020. Intel is looking to tap this market.
Intel has invested $50 million in quantum computing, which uses quantum bits to perform a large number of calculations and solve complex problems. IBM (IBM), Microsoft (MSFT), and Google (GOOG) are also working in this field.
You can gain exposure to this niche market by investing in the iShares Russell 1000 Growth ETF (IWF), which has holdings in large-capitalization growth sector stocks. It has 2.4% exposure to MSFT, 0.72% to IBM, 0.03% to XLNX, and 0.10% to INTC.