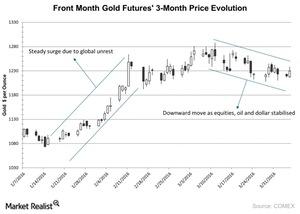 Why Did Speculators Pour Money into Gold?
By Meera Shawn

Updated
Gold's ups and downs
Precious metals rebounded in 2016. There was carnage in the prices during the past year. The sentiment around precious metals remained negative for 2015. This is likely due to the conundrum around the interest rate hike scenario. A rise in the interest rates often shuns the allure of non-yield-bearing investments like gold and silver.
The increase in valuable metals was due to safe-haven calls. Gold, silver, and platinum rose 15.7%, 9.2%, and 7.1%, respectively, on a YTD (year-to-date) basis. Lately, the safe-haven calls for precious metals seem to have fallen flat as the US dollar, equities, and oil markets rebounded. The pull-back in other investment avenues weighed the store-value assets. The traditional preference for gold in turbulent times played a significant role at the beginning of 2016.
Article continues below advertisement
Weakness in the gold markets, after touching a 13-month high above $1,280 per ounce, likely hurt the optimism among many hedgers and speculators. Gold added gains of more than $150 since the beginning of the year. Gold futures for June expiration touched the week's low of $1,215.7 per ounce on Monday, April 4.
Speculators poured money into gold
Large money managers and speculators were bearish on gold in 2015. Gold declined for three consecutive years. However, 2016 started with a bang as investors jumped to gold. According to weekly data released by the U.S. Commodity Futures Trading Commission at the end of March, speculators added to net long positions in gold and reached 468 tons. That is a surge of almost 530 tons since December's net short positions.
The fluctuations in gold and silver can also be tracked by investments in ETFs like the Sprott Gold Miners (SGDM) and the leveraged ProShares Ultra Silver (AGQ). Many investors also prefer investments in mutual funds like the USGI Gold and Precious Metals (USERX), the Fidelity Advisor Gold A (FGDAX), and the Gabelli Gold Fund (GLDAX). These three mutual funds rose by 35.8%, 41.6%, and 42.5%, respectively, on a YTD basis.