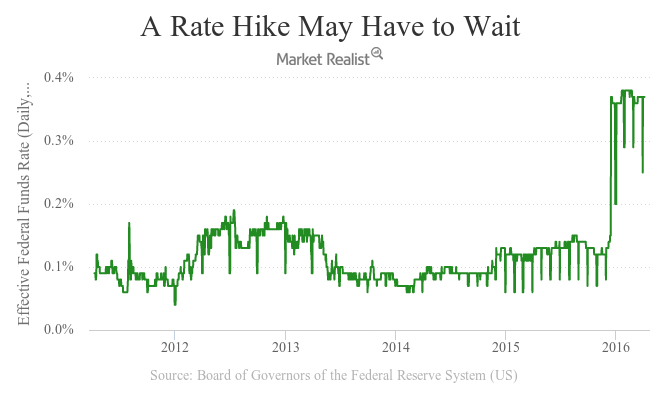 FOMC Meeting Minutes: What Does It Mean for Your Investments?
By David Ashworth

Nov. 20 2020, Updated 4:50 p.m. ET
FOMC is cautious
Most members of the FOMC (Federal Open Market Committee) want to move cautiously as far as rate hikes are concerned. They expect the factors that are holding down growth to only give way slowly. As a result, the March 2016 meeting minutes stated that "raising the target range as soon as April would signal a sense of urgency they did not think appropriate."
However, the divide regarding a rate hike in April was apparent. Some members thought that incoming data could warrant a rate hike this month. This divide kept an April rate hike on the table.
[marketrealist-chart id=1199625]
Article continues below advertisement
Uncertainties could hold back an April rate hike
It's important to remember that all of the discussions outlined in this series were undertaken in mid-March. Since then, we've had more data coming in. Some of the data are encouraging. However, PCE (personal consumption expenditure) inflation dipped in February. Core-PCE inflation, which excludes food and energy prices, rose by 1.7% year-over-year for the second consecutive month. Given that some FOMC members see downward risks to inflation, they might want to see more data in order to be sure that inflationary pressures are building in the economy.
Global factors 
The debate among FOMC members regarding global developments took center stage in the past year. It was prominently featured in the March minutes. There seems to be a contradiction in what members have been saying. At times, they expressed confidence in the domestic economy. They're certainly happy about the labor market metrics. This should be reason enough for a rate hike. On the other hand, some members note the weak global environment. They see risks for the US economy emanating from that environment.
Article continues below advertisement
It seems that there's more confusion than anything else at this point in time. This is holding back more rate hikes. It's important to note that the reason cautious members are being heard is because the low level of interest rates in the US gives FOMC members more room to increase rates if the situation warrants. If global factors are strong enough to impact the US economy, a rate hike at this juncture would do more harm than good. The FOMC might need to scale back the increased rates. It just seems that the domestic economic picture isn't giving enough confidence to central bankers for hike rates.
Fixed-income investors (VCIT) should watch out for inflation data. It's a good time to look at inflation-protected bonds and mutual funds (FINPX). If PCE inflation rises in the coming two months, a rate hike will be quite possible in the June meeting. An increase in rates should benefit insurers (ALL) (FAF) (AJG) but the entire financial spectrum may not benefit. For now, CME Watch shows that there's only a 2.3% probability of a rate hike in April. The highest probability of a rate hike is in December. At that time, the probability of the federal funds rate being higher than the current range rises to 51.1%.
The FOMC meets next on April 26–27. We'll analyze that meeting for various sectors including mutual funds.