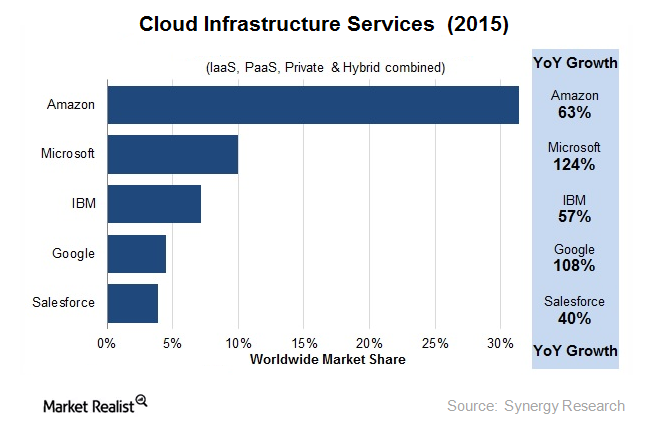 IBM and SAP: The Impact of the Fall in IT Spending
By Anne Shields

Apr. 28 2016, Updated 8:05 a.m. ET
Increased preference for Microsoft and Amazon for cloud services puts pressure on IBM and SAP
We've seen how Gartner previously expected IT spending to grow in 2016. But now it expects global IT (information technology) spending to fall 0.5% in 2016. Despite tighter IT spending on the cloud, Microsoft (MSFT) Azure and Amazon (AMZN) Web Services will continue to benefit. They're the most preferred cloud computing players when companies want to shift their workloads to the cloud.
JPMorgan Chase's report released on April 14, 2016, further highlights the accelerated shift to the cloud. The rise and dominance of Amazon's cloud offerings signal a "changing of the guard" in the enterprise IT space. The report said this implies that "threats to traditional, on-premise IT infrastructure vendors are serious."
This puts the futures of IBM (IBM) and Germany- (EWG) based SAP AG (SAP) in jeopardy. Both companies are trying aggressively to make a mark in the cloud space, but they still draw a majority of their revenues from software licenses.
SAP's cloud subscriptions and support revenue grew 35% to 0.68 billion euros. Its revenue from traditional software licenses fell 13% to 0.61 billion euros in its recently announced fiscal 1Q16 preliminary earnings.
IBM, on the other hand, with each quarterly report, including recent fiscal 1Q16, claims that its Strategic Imperatives continues to grow. However, for the last four years, the company has failed to report any growth in revenues.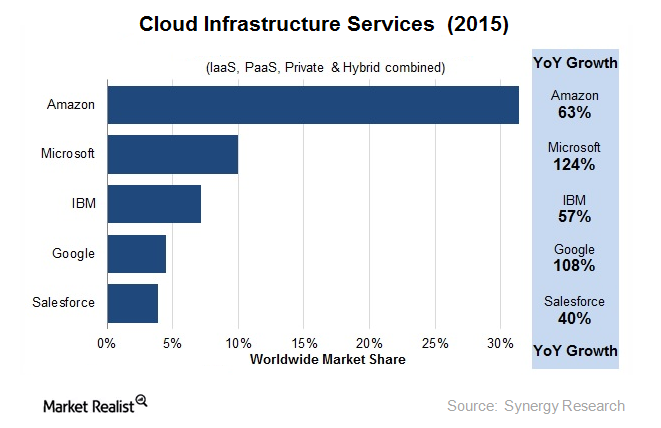 Article continues below advertisement
Amazon and Microsoft are emerging as formidable competitors in cloud space
According to Synergy Research and as the above chart shows, Amazon leads the cloud space. Although Amazon is the undisputable leader in the cloud space, it's Microsoft that recorded the highest growth of 128% in this space in 2015. Lately, competition has heated up between the two players in terms of customer win and price slashing of their offerings.
Investors interested in gaining exposure to IBM can consider investing in the SPDR S&P 500 ETF (SPY), which has an exposure of 8.7% to application software and invests ~0.7% of its holdings in IBM.
In the last part of our series, we'll look at analysts' recommendations for IBM stock after the 1Q16 results.