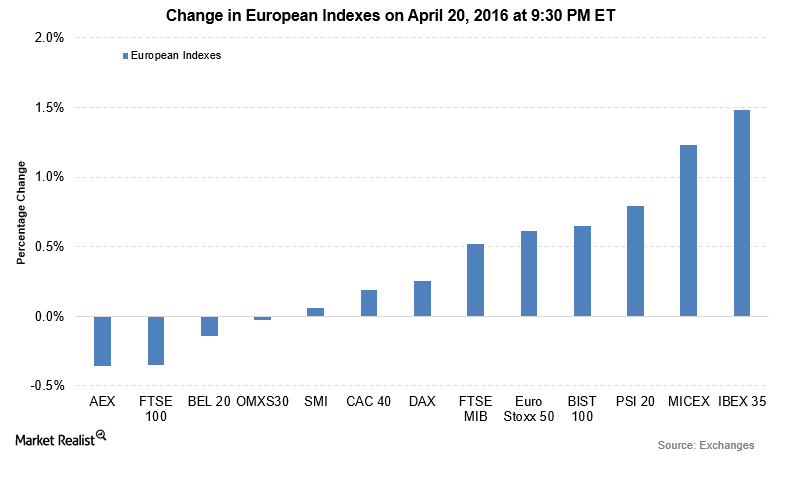 Caution in European Indexes ahead of the Central Bank Meeting
European indexes mixed as crude oil slides
European indexes (DBEU) were trading with a slight positive bias this morning even as crude oil prices fell by close to 2.5% at 9:00 AM EST. Investors seemed ready to wait with caution as the European Central Bank (or ECB) is scheduled to meet tomorrow. The European markets' (HEDJ) gains for the day were led by the Spanish index IBEX 35, which rose 1.5%. The German DAX rose 0.25% as German inflation data came in at a decent level.
The SPDR Euro Stoxx 50 ETF (FEZ) rose 0.61% as of 9:30 PM EST today. The French CAC 40 posted gains of 0.19%.
Among other major European indexes (IEV), the crude-related Russian economy (RSX) was trading on a positive note despite the fall in crude prices. The Russian index MICE rose 1.2%.
The major non-Eurozone markets were trading with a contrasting bias. The United Kingdom's (FKU) FTSE 100 fell 0.35% after the weak labor data release. Sweden's (EWD) OMX Stockholm 30 traded flat.
Article continues below advertisement
German PPI is stable
Destatis published the German producers price index (or PPI) for March today. The month-over-month PPI came in unchanged against forecasts of a 0.1% rise. The year-over-year PPI fell 3.1%, which was slightly more than the expected fall of 2.7%. The fall was mainly due to the fall in energy prices. They fell 9.2% on year-over-year. In contrast, durable consumer goods and capital goods rose 1.4% and 0.6%, respectively.
UK labor data show weakness
The UK office of National Statistics published the labor data, which indicated a rise of 6,700 people claiming unemployment benefits in March. The unemployment rate for February remained unchanged at 5.1%. The average earning index was also disappointing. It rose only 1.8% against the forecast of a 2.1% rise in the three months leading up to February 2016. The weak data also reflected on the UK markets, which fell by close to 0.4% early today.