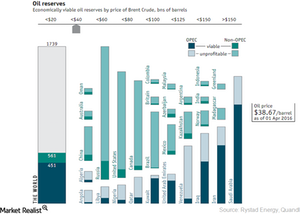 How Crude Oil Prices Impact Top Oil Producers and Exporters
By Gordon Kristopher

Updated
Brent crude oil prices 
Brent crude oil prices hit monthly lows on April 4, 2016. The prices settled at $37.69 per barrel on the same day. To learn more, read the first part of the series. Oil prices are trading close to 12-year lows. Low oil prices impact the viability of conducting oil and gas exploration and production business.
Article continues below advertisement
Top crude oil producers and exporters 
Russia, Saudi Arabia, and the US are the top crude oil producers in the world. They produce almost 30 million barrels per day of crude oil. That's almost 34% of the global crude oil production. Oil prices around $40 per barrel make the crude oil exploration and production business unprofitable for the US because of its geography. This makes oil extraction expensive. The US can extract ~14 billion barrels of crude oil from its reserves at $40 per barrel and make a profit. However, the rest of the 163 billion barrels of crude oil reserves aren't profitable. As a result, it impacts oil companies' revenue. Lower revenue leads to more borrowings to run and sustain the business. Learn more about US oil producers' debt and their production strategy in the next part of the series. You can also read Crude Oil's Total Cost of Production Impacts Major Oil Producers. 
Russia is an oil producer and major exporter. It's cushioned better than the US. At $40 per barrel, Russia is also feeling the heat. It can extract around 31 billion barrels of crude oil out of 222 billion barrels of crude oil reserves and make a profit.
Saudi Arabia is positioned better than Russia and the US. Most of the Middle East countries are positioned better due to their geography. Saudi Arabia can extract 165 billion barrels of crude oil out of 212 crude oil reserves at $40 per barrel. Read How Oil Prices Are Squeezing OPEC Members' Budgets to learn more.
Impact on crude oil producers
Multiyear low crude oil prices impact major Middle East oil producers like Saudi Aramco, National Iranian Oil Company, Qatar Petroleum, and Oman Oil Company. They also impact Russian oil producers like Gazprom PAO (OGZPY), Lukoil (LUKOY), and Tatneft (OAOFY). They affect US oil producers like Energy XXI (EXXI), QEP Resources (QEP), Warren Resources (WRES), Bill Barrett (BBG), and Bonanza Creek Energy (BCEI).
The roller coaster ride in oil prices impacts oil and gas ETFs and ETNs like the VelocityShares 3X Inverse Crude Oil ETN (DWTI), the PowerShares DWA Energy Momentum (PXI), the Vanguard Energy ETF (VDE), and the ProShares UltraShort Bloomberg Crude Oil ETF (SCO).