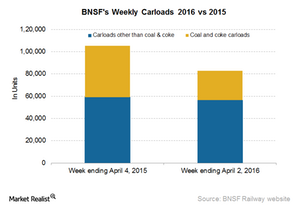 Coal and Coke Railcar Decline Dampens BNSF Railway's Total Railcars
By Samuel Prince

Updated
BNSF Railway's total railcars
BNSF Railway (BRK-B) operates in the Western US. Its main competitor is Union Pacific (UNP). BNSF Railway's total railcar units for the week ended April 2, 2016, fell by 21.3% to ~83,000 units from around 105,000 units in the week ended April 4, 2015. This fall is significant given BNSF's magnitude of operations. Excluding coal and coke, BNSF's other railcars also declined by 4.5% in the week ended April 2, 2016. You should note that BNSF's fall in total railcars was higher than the average decline in railcars for all reporting US railroads last week.
Article continues below advertisement
Why coal matters for BNSF
BNSF Railway's coal and coke railcars were down by a remarkable 43% in the week ended April 2, 2016, compared with the corresponding week in 2015. The company moved 26,000 units of coal and coke in the week ended April 2, 2016, against 46,000 units in the corresponding period of 2015. Coal transportation contributed nearly 22% of freight revenues for fiscal 2015.
90% of all BNSF's coal originates from the Powder River Basin (or PRB) of Wyoming and Montana. The major coal producers operating in that area include Alpha Natural Resources (ANR) and Peabody Energy (BTU). These companies have lowered their 2016 coal shipment guidance from the levels in 2015. Overall, environmental concerns and competition from natural gas have hampered incremental coal shipment prospects for coal producers in 2016.
All the major US railroads make up 21% of the iShares Transportation Average ETF (IYT).
Progressing and regressing commodities
The main front runner commodities for the week ended April 2, 2016, were:
chemicals
motor vehicles
iron and steel scrap
non-metallic minerals
Those commodities that witnessed backward movement include grain, metallic ores, petroleum, stone, clay and glass, and forest products.
For more information on the previous week's rail traffic, visit Market Realist's North American Railroads as of March 26: Slipping off the Tracks. In the next part, we will go through the details of BNSF Railway's intermodal traffic.