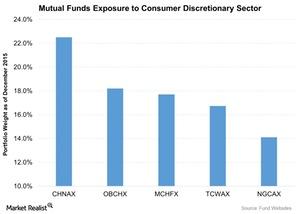 Westpac MNI Consumer Sentiment Hit Its Lowest since October 2015
By Lynn Noah

Mar. 15 2016, Updated 9:07 p.m. ET
Westpac MNI Consumer Sentiment Indicator
The Westpac MNI China Consumer Sentiment Indicator (or CSI) is made up of five major sub-indicators: the durable buying conditions indicator, the current business conditions indicator, the stock investment indicator, the real estate investment indicator, and the car purchase indicator.
The Westpac MNI China CSI fell 3.1% to 111.3 in February from 114.9 in January as household finances and the outlook for spending deteriorated. This reading was at its lowest level since October 2015. Against the backdrop of weakening sentiment on household finances, there were also notable declines in spending measures that have a high correlation with official data on retail sales. Intended spending on entertainment, shopping, and dining out all fell back to the lowest since October.
Sentiment towards the real estate market, which had been broadly recovering since mid-2014, also suffered a setback in February as price expectations declined and a larger majority of respondents thought it was a bad time to buy a house.
Article continues below advertisement
Uncertainty in policy changes drags consumer sentiment down
According to chief economist of MNI Indicators, Philip Uglow, "Waning growth and ongoing questions about the ability of policymakers to manage the economy's transition are manifesting themselves in lower confidence among ordinary Chinese. The relative strength in retail sales and consumer spending over the past year helped the economy avoid a sharper slowdown, but weakness in the current survey clouds the outlook for spending somewhat."
Impact on mutual funds
The chart above shows the exposure of China-focused mutual funds to the consumer discretionary sector. The Clough China Fund–Class A (CHNAX) has the highest exposure of 22.5% to the consumer discretionary sector while other funds have exposure in the range of 18% to 14%.
A decline in consumer sentiment is negative for consumer discretionary companies and mutual funds with sizable exposure to stocks from this sector.
Thus, American depositary receipts (or ADRs) of consumer discretionary companies such as Ctrip.com International (CTRP), Jumei International (JMEI), Homeinns Hotel Group (HMIN), New Oriental Education (EDU), and Qunar Cayman Islands Limited (QUNR) would be adversely impacted due to a decline in consumer sentiment.
In the next article, we will look at Chinese currency positions in international payment.