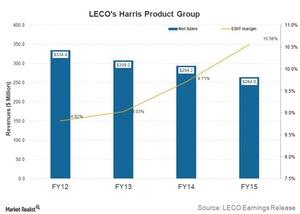 Volume, Raw Material Prices Impact Lincoln's Harris Welding Segment
By Jessica Stephans

Updated
Lincoln's Harris Product Welding segment
In fiscal 2015, Lincoln Electric's (LECO) Harris Product Welding segment contributed approximately 10% to its total revenue, with 7% to its consolidated operating profit. It had an operating margin of 11%.
The Harris Product Group includes the company's global cutting, soldering, and brazing business. The retail US business is included in this segment, which primarily comprises the United States, Canada, and Mexico.
Net sales declined by 10% in 2015 over 2014. This can be largely attributed to a 5.4% decline in product pricing. The product pricing decreased for this segment on the back of a decrease in the costs of silver and copper as compared to the prior year.
There was a 4% impact from foreign currency. The Harris Group's EBIT margin increased to 10.5% as compared to 9.7% in 2014.
Article continues below advertisement
Signs of the demand revival in Canada
Canada's manufacturing sector is expected to show good growth. Its auto parts and aerospace segments showed better growth since 2013 than the rail and shipbuilding industries.
The world is increasingly demanding high-value services. Three of the five growing exports in Canada have been high-value services, and Canada is expected to tap these opportunities. The Harris Product segment is expected to benefit for the same reason.
ETF investments
LECO is a part of the Robo-Stox Global Robotics and Automation Index ETF (ROBO) and accounts for 2.2% of the total holdings. Cognex Corp. (CGNX), Rockwell Automation (ROK), and ABB Ltd. (ABB) are also among the top ten holdings of the fund, comprising 2.2%, 2.1%, and 2.0%, respectively, of the fund. LECO is also part of the SPDR S&P Dividend ETF (SDY).