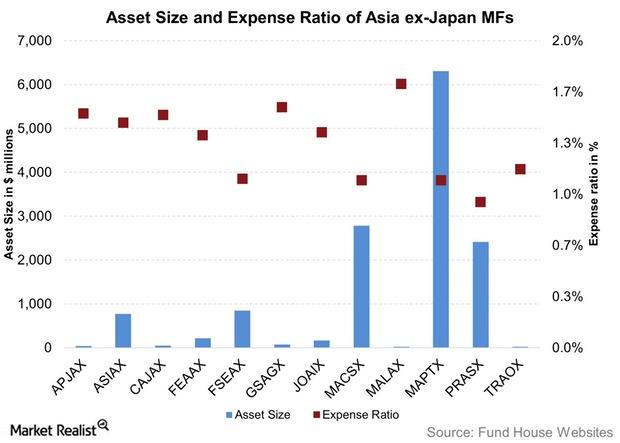 Your Strategy for Asia Ex-Japan Mutual Funds
By David Ashworth

Nov. 20 2020, Updated 3:18 p.m. ET
Asia ex-Japan mutual funds
In this series, we've reviewed 12 Asia ex-Japan mutual funds with varied focus on geographies, investment themes, and styles.
We looked at funds that were invested in Pacific-region countries such as Australia (APJAX) (ASIAX) (MACSX) apart from Asian countries. Most funds had their highest respective asset portions allocated to Chinese equities (TRAOX) (GSAGX), while one fund kept its exposure to these securities low (APJAX).
Article continues below advertisement
A few funds avoided Indian equities (ASIAX) (MACSX), while a couple had quite a substantial portion of their assets invested in Indian equities (MALAX) (JOAIX). Though these funds were supposed to be ex-Japan, a few could not resist the temptation of adding Japanese stocks to their portfolios (FEAAX) (FSEAX) (MACSX).
There is a huge variation in asset size between the funds under review, as can be seen in the graph above. Sizes range from $23.3 million (MALAX) to $6.3 billion (MAPTX). The T. Rowe Price New Asia Fund (PRASX) was the cheapest fund, while the Mirae Asset Asia Fund Class A (MALAX) was the most expensive.
To give you an idea of how these mutual funds have performed in comparison to passively managed products, we've provided the performances of two ETFs in the individual fund analyses as well: the iShares MSCI All Country Asia ex Japan ETF (AAXJ) and the WisdomTree Asia Pacific ex-Japan ETF (AXJL). We used the former as a stand-in for the MSCI AC Asia ex-Japan Index for calculating various quantitative metrics.
Article continues below advertisement
Observations
One thing that was clearly visible was that on a point-to-point return basis, all mutual funds but one (APJAX) were able to beat AAXJ. For the one-year period until February 2016, APJAX was joined by two other funds (CAJAX) (MALAX) that were unable to beat the passive fund. This shows that astute fund management can help you to reduce losses during times of stock market decline and volatility, though all active funds can't claim to provide such a benefit.
This is not to say that passive funds must be replaced by mutual funds. It just shows that, given the quantitative metrics, your fund manager may deserve that higher management fee. Passive funds, especially for emerging and frontier markets, can act as anchors around which one can have two or three well-managed active mutual funds.
Article continues below advertisement
Asia ex-Japan in a rough patch?
Asia ex-Japan countries such as China and India had a poor 2015 in terms of equity market performance. However, given the renewed focus of the Indian government on inclusive growth, as shown in the country's recently announced Budget, Indian equities (WIT) (VEDL) could be back on track in the medium term.
The situation in China (SHI) is far more challenging, and sustained confidence in the country's financial markets may be established only in the medium to long term.
Investors who are already invested in the region should likely stay invested, the exception being those with short-term views that didn't work out. Those contemplating whether or not to get in should do so only with a long-term view. Investors should keep themselves informed about the performance of the mutual funds in this review, so that they're armed with vital information and know which fund to select when the time is right for them.
You can find more analysis of these products on Market Realist's Mutual Funds page.