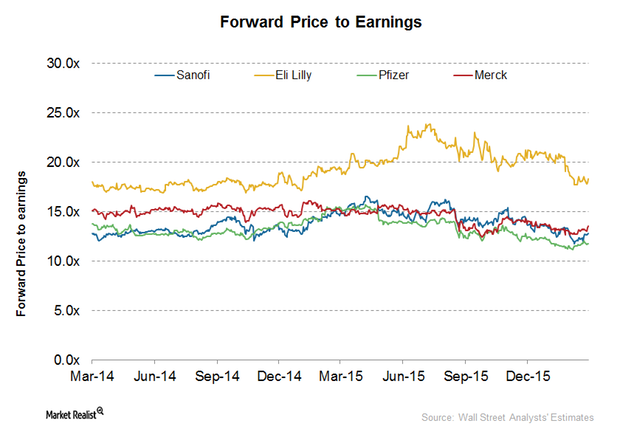 Why Is Sanofi Trading at a Discount on a PE basis?
By Jillian Dabney

Mar. 9 2016, Updated 12:24 a.m. ET
Valuation on PE basis for Sanofi
On March 2, 2016, Sanofi (SNY) was trading at a forward price-to-earnings (or PE) multiple of 12.79x. The company has been trading at a discount when compared with Eli Lilly (LLY) and Merck & Co. (MRK), which were trading at 18.31x and 13.56x of their forward earnings, respectively. Pfizer (PFE) was trading at a discounted forward PE multiple of 11.74x on that day.
Article continues below advertisement
Industry performance
According to Bloomberg Intelligence, the estimated average and median PE multiple for the industry is 16.42x and 14.63x, respectively. The average and median sales growth for the industry stood at 2.85% and 1.75%, respectively.
The average PE for Sanofi (SNY) during the past year was 14.4x. Although it seems to be at a discount, lower sales growth has yielded a PE-to-growth (or PEG) ratio of 2.34, which is higher than the average and median industry metrics.
Potential catalysts for valuation
One of the possible reasons for the higher PEG might be the expected regulatory decisions in 2016 on Sarilumab, LixiLan, lixisenatide, and Dengvaxia in endemic countries. Investors may be more optimistic about them.
The FDA is expected to issue a response on Sarilumab by October 30, 2016. The drug is being developed in association with Regeneron (REGN) for the indication of rheumatoid arthritis. If launched, it would compete with Roche's Actemra and sirukumab, a pipeline drug from GlaxoSmithKline (GSK) and Johnson & Johnson (JNJ). The drug might receive approval in 2016.
Article continues below advertisement
Secondly, a potential asset swap deal with Boehringer Ingelheim is expected to fuel Sanofi's Consumer Healthcare (or CHC) segment. This deal could enable the company to be a leader in the highly fragmented and growing CHC business. For detailed information on its CHC business, please refer to Can Consumer Healthcare Drive Sanofi's Revenue?
Thirdly, Genzyme, a wholly owned subsidiary of the company, is reporting robust growth. In the past 11 years, it has managed growth above 20%. For more information on Genzyme, please read A Look at Prospects for Genzyme, a Sanofi Company.
With changing market dynamics along with the count of the late-stage pipeline products, the share price of a biotechnology company fluctuates. Investors who prefer broad-based exposure to the company or the industry can choose the First Trust Value Line Dividend Index ETF (FVD), which holds 0.48% of its total portfolio in Sanofi (SNY) stock.
In the next article, we will analyze Sanofi's performance based on its operational efficiency.