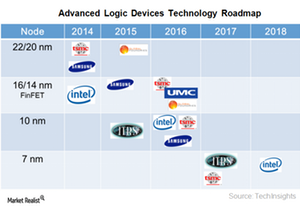 What Is Samsung's Growth Strategy in the Semiconductor Space?
By Puja Tayal

Updated
Samsung eyes technology advancements to remain competitive
Samsung's (SSNLF) semiconductor business is one of its most profitable businesses, accounting for 45% of the company's operating profit. However, falling DRAM (dynamic random access memory) prices have lowered the profit of this business, raising concerns among investors about the company's long-term growth prospects.
Amid slowing demand for electronic devices such as PCs and smartphones and weakness in the macroeconomic environment, Samsung is making efforts to remain profitable in all businesses and stay ahead of the competition with advanced technology. Let's look at the company's growth strategy for its semiconductor business.
Article continues below advertisement
Memory business
In the memory space, Samsung is looking to increase its products' competitiveness by making advanced technological improvements. Although the demand for smartphones and PCs is slowing, the demand for greater memory capacity continues to increase. Capitalizing on this trend, Samsung will manufacture high-end memory chips.
System LSI business
Apart from memory, Samsung's System LSI (large-scale integration) business manufactures a wide range of logic chips and SoCs (system-on-chip) and also provides foundry services.
Samsung is at the forefront of the foundry business. Its biggest competitor is Taiwan's (EWT) TSMC (TSM). While Samsung has started using 14nm (nanometer) FinFET (fin-shaped field effect transistor) technology, TSMC is still ramping up its 16nm technology.
Samsung plans to diversify its foundry customers. In 2015, it lost its key customer Apple (AAPL) to TSMC, but it won the accounts of Qualcomm (QCOM), NVIDIA (NVDA), and Advanced Micro Devices (AMD). The 14nm chips are believed to deliver 20% more processing power while consuming 35% less electricity and 15% less space than the 20nm chips.
Staying on top of technology advancements, Samsung is now transitioning to 10nm technology. It claims to have developed a 7nm chip in collaboration with IBM and Global Foundries. With these efforts, Samsung is looking to move ahead of Intel (INTC), which is still developing 10nm technology. These technology advancements may help Samsung win back Apple's business.