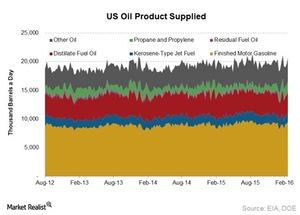 Rising Orderbook: Smooth Seas or a Concern for Tanker Industry?
Crude tanker orderbook
The crude tanker (USO) orderbook has risen steadily for many months. The orderbook tells us how many ships have been ordered and how many are under construction. It also helps us to assess companies' expectations of future rates and industry profitability.
Article continues below advertisement
Tanker orderbook continues to rise
According to data from Athenian Shipbrokers, the VLCC (very large crude carrier) orderbook rose in January 2016 to 42.1 million DWT (deadweight tonnage) from 38.7 million DWT in December 2015. The Suezmax orderbook remained constant at 16.8 million DWT in January from the previous month.
According to Athenian Shipbrokers, at the end of January, 136 newbuild VLCCs were under contract, which represents approximately 20% of the global VLCC fleet. Suezmax newbuilds under contract are now 107, which is 24% of the total Suezmax fleet.
Newbuild vessels need two to three years of time to delivery. A rising orderbook suggests tanker owners have confidence in the tanker demand. They expect their companies to reap profits from the newbuilds, resulting in a rising orderbook. Although the tanker owners seem to have a bright outlook for the industry, newbuilds entering the global fleet increase supply, which may negatively affect tanker rates.
Article continues below advertisement
Heavy 2016 deliveries
According to Athenian Shipbrokers, out of the total newbuilds, 66 VLCCs and 40 Suezmax tankers will be delivered in 2016. This represents around 10% of fleet addition in 2016. These deliveries are mostly scheduled in the second half of the year.
The addition of newbuilds could loosen the supply and demand position of tankers, which could negatively impact tanker rates. The total fleet increase will also depend on scrapping activity. As in 2015, scrapping activity is expected to be on a lower side as tanker owners are enjoying robust tanker rates.
An increase in tanker supply is expected to pull down tanker rates from the current levels, especially in the second half of 2016. This should have a negative impact on Frontline (FRO), Nordic American Tankers (NAT), Teekay Tankers (TNK), Euronav (EURN), DHT Holdings (DHT), and Tsakos Energy Navigation (TNP).