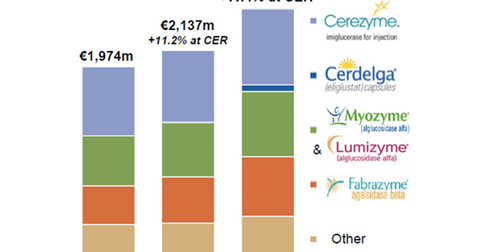 Rare Disease Portfolio Helped Sanofi to Offset Falling Diabetes Sales
By Jillian Dabney

Mar. 15 2016, Updated 8:08 p.m. ET
Sanofi's rare disease portfolio has huge potential
Genzyme, a subsidiary of Sanofi (SNY), holds rare disease, multiple sclerosis, oncology, and immunology disease drugs in its portfolio. The rare disease portfolio includes Cerezyme, Myozyme, Fabrazyme, Aldurazyme, and Cerdelga, whereas its multiple sclerosis drugs include Aubagio and Lemtrada.
Sanofi's immunology drugs include sarilumab and dupilumub. For detailed information on Genzyme, please refer to A Look at Prospects for Genzyme, a Sanofi Company.
The company's core rare disease franchise includes Gaucher, Fabry, and Pompe. Followed by its new patient accruals, the rare disease franchise reported moderate growth.
Under its Gaucher franchise, Sanofi treated more than 5,400 patients in 2015. The rare disease product sales in 2015 totaled 2.55 billion euros, up by 11.4%.
Article continues below advertisement
Sanofi's Gaucher franchise 
Cerezyme and Cerdalga fall under Sanofi's (SNY) Gaucher franchise. Cerezyme is an enzyme replacement therapy (or ERT) to treat Gaucher disease. The incidence for Gaucher in the general population is ~1 in 120,000. Reduced Russian government funding for Cerezyme resulted in a decline in sales in the fourth quarter of 2015. Cerezyme sales in 2015 were ~30% of the total rare disease portfolio, amounting to 757 million euros, up marginally by 1.3%.
Cerdelga recorded 66 million euros in sales. The drug received approval from the European Medicines Agency (or EMA) in January 2015. In March 2015, it received approval in Japan.
Sanofi's Fabry and Pompe franchise 
Myozyme/Lumizyme is an ERT used to treat Pompe disease. The incidence of Pompe disease is ~1 in 40,000 newborns. The drug is approved in 76 countries.
Fabrazyme is indicated to treat Fabry disease, which has an incidence of approximately 1 in 35,000 newborns globally. Fabrazyme's sales stood at 592 million euros, whereas Myozyme earned 650 million euros in 2015.
The rare disease portfolio of Sanofi is further expected to grow by the high single digits from 2015–2020.
R&D pipeline of rare diseases
Olipudase, NeoGAA, and Fitusiran are the three major pipeline candidates under the rare disease portfolio. The pivotal trials for these products should start later in 2016.
Other companies that operate in the rare disease space are Alexion Pharmaceuticals (ALXN), BioMarin Pharmaceutical (BMRN), and Mallinckrodt (MNK). Developing drugs for such rare, or orphan, diseases offer these companies premium pricing advantages and substantial margins.
To avoid ups and downs in individual stock prices, investors can consider the PowerShares International Dividend Achievers ETF (PID). Sanofi accounts for 1.4% of PID total holdings.