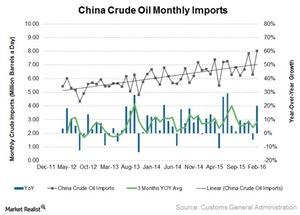 Which Industry Cheered over China's February Trade Data?
By Sue Goodridge

Mar. 11 2016, Published 7:18 a.m. ET
China's import-export data
China's total exports for February 2016 fell by 25% on a year-over-year basis. Also, its imports declined by 14%, which was a bigger drop than expected by analysts. According to a Reuters poll, analysts had expected a 12.5% drop in exports and a 10% drop in imports. This was the 16th straight monthly drop in imports.
The data created negative sentiment in the global stock market and pulled down the prices of metals and oil. Although everything seems gloomy, there is one industry that welcomed China's import-export data: the crude tanker industry. However, the data brought bad news to the dry bulk shipping industry, which includes companies like Navios Maritime Partners (NMM).
Article continues below advertisement
China's crude oil imports
Although China's overall imports fell, its crude oil imports rose in February. China imported 31.8 million metric tons of crude oil, which equals 8 million barrels per day, according to data from the General Administration of Customs.
The imports were 24.5% higher than the 25.6 million tons of crude oil shipped during the same month last year and about 19% higher than the 26.7 million tons imported in January 2016.
China (FXI) (MCHI) imports most of its oil by sea. Higher crude oil imports mean higher crude tanker demand, and higher tanker demand translates to higher tanker rates, all else equal. Higher tanker rates benefit crude tanker companies like Frontline (FRO), Teekay Tankers (TNK), Tsakos Energy Navigation (TNP), Nordic American Tankers (NAT), DHT Holdings (DHT), Gener8 Maritime (GNRT), Navios Maritime Midstream Partners (NAP), and Euronav (EURN).
After the drastic 20% fall in imports in January, China's crude oil imports in February brought relief to crude tanker investors.
The rise in imports was due to higher demand by local refineries in preparation for the expected higher demand during the Lunar New Year holiday. Also, higher refinery margins encouraged higher refinery throughputs, which contributed to higher imports.