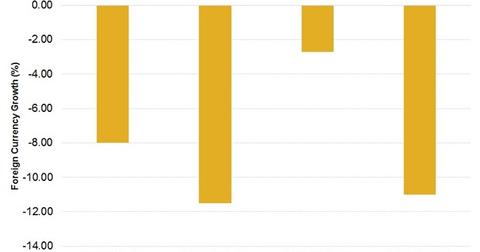 Gauging the Impact of Foreign Currency Exchange on CPG Companies
By Penny Morgan

Updated
Geographical presence
CPG (consumer packaged goods) companies are geographically diverse and hence face stiff competition from other internationally and nationally advertised brands within each category and with "private label brands." Procter & Gamble or P&G (PG) sells its products in more than 180 countries and derives ~63% of its revenue from outside the US. Colgate-Palmolive (CL) and Kimberly-Clark derive more than ~75% and 50%, respectively, of their revenues from outside the US, and Clorox (CLX) derives ~19.2% of its sales from international markets.
Article continues below advertisement
Vulnerability to devaluation
Although geographic expansion increases brand penetration, it also increases vulnerability to the negative impact of foreign exchange currencies. According to P&G's CFO, Jon Moeller, since the start of December 2015, current year forex (foreign exchange) headwinds increased by $0.3 billion after tax for P&G. This encompasses a 40% devaluation in Argentina, an additional 15% devaluation in Russia, and a nearly 10% devaluation in Mexico.
Clorox also suffered from the impact of slowing international economies, including the recent significant devaluation of the Argentinian peso. Colgate-Palmolive's strong positions in Brazil and Venezuela and severe macroeconomic challenges of devaluations have led the company to discontinue results from Venezuela.
Recently, Procter & Gamble and Clorox also discontinued operations in Venezuela. Comparatively, Kimberly-Clark (KMB) and Unilever (UL) do not have a strong presence in the toughest world markets.
Single-category sites and hedge instruments
Apart from innovation, P&G is focusing on single-category production sites. This should help the company localize manufacturing and sourcing as well as help in hedging currency exposure. Clorox also uses instruments to hedge certain foreign currency risks, but these hedges only offset a small portion of the company's exposure to foreign currency fluctuations.
Procter & Gamble, Kimberly-Clark, and Clorox together make up 2.3% of the PowerShares S&P 500 Low Volatility Portfolio ETF (SPLV) as of March 17, 2016.
Continue to the next part for a look at CPG companies' efforts on the innovation front.