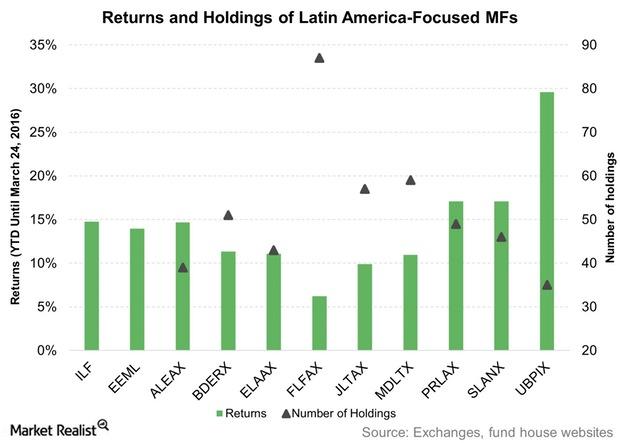 Mohamed El-Erian Believes in Brazil, Just Not Now
By David Ashworth

Nov. 20 2020, Updated 2:05 p.m. ET
Latin America–focused mutual funds have done well
A look at the graph below shows the 2016 YTD (year-to-date) performance of the nine mutual funds that invest in Latin American stocks (SQM) (KOF) (LFL). These funds have been the focus of our strictly quantitative review in this series. To give you an idea of how these mutual funds have performed compared to passively managed products, we've provided the returns of two ETFs as well. They are the iShares Latin America 40 ETF (ILF) and the iShares MSCI Emerging Markets Latin America ETF (EEML).
Article continues below advertisement
Only three of the nine funds (PRLAX) (SLANX) (UBPIX) have been able to outperform ILF in 2016 YTD. EEML has outdone all but four of the actively managed mutual funds. This shows why picking quality actively managed funds is important for your portfolio. Sub-par funds won't be able to give you the benefits of a rise in equities.
What about Mexico?
This year could have been the year Mexico took over from Brazil as the country driving Latin American nations. But the year is far from over, and this could still happen. However, the run-up in Brazilian equities has put the focus firmly back on the nation synonymous with Latin America. Mexico isn't in as good a shape as it could have been, macro economically speaking.
Mexico's central bank, Banco de Mexico, reduced its forecast for the economy's rate of growth in 2016 to 2%–3% from 2.5%–3.5% projected earlier. The central bank noted that private consumption seems to be slowing, leading to a deceleration in economic growth. In addition, lower industrial activity in the United States will hurt Mexico, given the importance of the United States as an export market to the country.
Article continues below advertisement
Should you invest in Latin-American mutual funds right now?
Brazilian equities feature prominently in most of the nine mutual funds we've analyzed in this series. You may have noticed that in the "Investor takeaways" section, we've given pointers to investors already invested in a particular fund. But what about those who want to get in?
Mohamed El-Erian is the chief economic adviser at Allianz, a multinational financial services company. In the early 2000s, he bet on Brazil and was handsomely rewarded. But now, he expects reforms out of either the present or future governments if Brazil is to grow to its potential.
The present rally in Brazilian equities isn't backed by fundamentals. It's highly likely that macroeconomic reality will catch up soon with the financial markets. Retail investors who haven't yet invested in mutual funds investing in the region may want to stay away for now.
Brazil's long-term potential isn't under question, though. In an email interview with Bloomberg, El-Erian said, "Brazil has an enormous potential, absolutely enormous. What is missing is the political context that enables sustained policy implementation, coupled with broad-based understanding and support."
Our analysis should give you insights into which funds may suit you, given their performances right now. With a dash of patience and at just the right time, you can confidently go forward with your investments. We'll keep you posted about all developments on our Mutual Funds page.