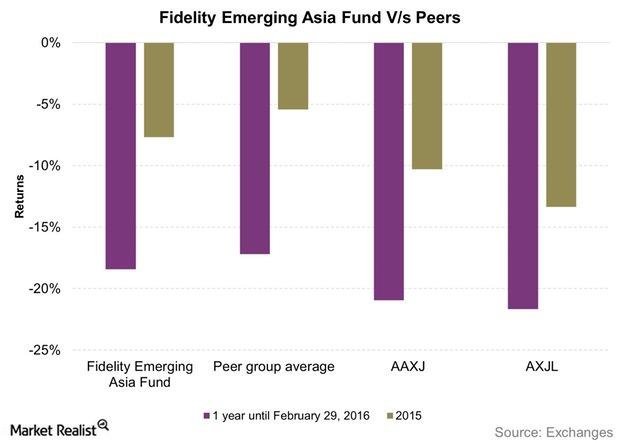 FSEAX Sees a Superior Consistency of Returns
By David Ashworth

Mar. 8 2016, Updated 9:07 a.m. ET
Fidelity Emerging Asia Fund performance
In this article, we'll specifically outline the performance of the Fidelity Emerging Asia Fund (FSEAX). The fund is invested in the stocks of companies such as Korea Electric Power (KEP), KB Financial Group (KB), China Life Insurance (LFC), TAL Education Group (XRS), and New Oriental Education & Technology Group (EDU).
From a purely net asset value return standpoint, FSEAX had a below-average showing in both the one-year period until February 29, 2016, and in 2015. It stood eighth and ninth, respectively, in the peer group for the aforementioned periods.[1. When we refer to the peer group, we mean the group of 12 funds chosen for this review.] For return comparison, we've chosen two ETFs: the iShares MSCI All Country Asia ex Japan ETF (AAXJ) and the WisdomTree Asia Pacific ex-Japan ETF (AXJL).
For evaluating benchmark-related metrics, we've chosen AAXJ as the benchmark for all funds in this review, as it tracks the MSCI All Country Asia ex Japan Index.
Article continues below advertisement
Other metrics
The FSEAX's standard deviation, or the volatility of its returns, in the one-year period until February 29 was 18.1%. This was sharply higher than both AAXJ's 17.9% and the peer group's average of 16.5%.
The fund's risk-adjusted returns, calculated via the Sharpe Ratio, were negative for both the one-year period ended February 29 and for 2015. Evaluating a negative Sharpe Ratio may be misleading, so we'll avoid that.
The information ratio, calculated with AAXJ as the benchmark, was 1.45 for the one-year period ended February 29, placing it second among the 12 funds in this review. The information ratio shows the consistency of a fund manager and measures his ability to generate excess returns over a benchmark. The higher the reading, the better the consistency. For 2015, the fund's information ratio ranked it fifth among its peers.
A note to investors
The FSEAX not only had a superior showing in terms of consistency in returns, it was also a good alpha generator. Its alpha for the one-year period ended February 29 ranked it third, and its alpha for 2015 placed it sixth. Compared to its close cousin, the Fidelity Advisor Emerging Asia Fund Class A (FEAAX), FSEAX is less volatile and has similar metrics for the periods under review. Investors should look at comparative performances over market cycles to see if one significantly differs from the other.
In the next article, we'll look at the Goldman Sachs Asia Equity Fund Class A (GSAGX).