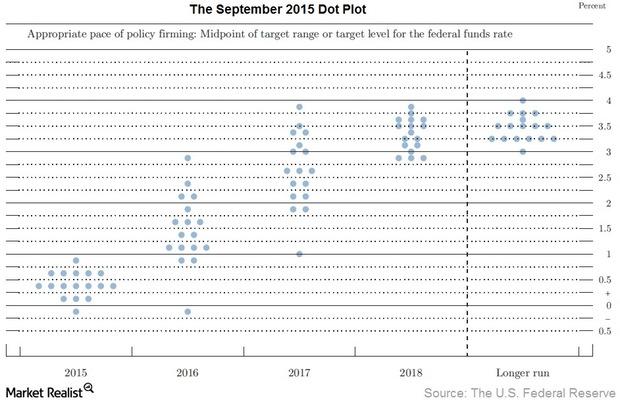 Was the Fed's March 2016 Policy Statement Really Ultra-Dovish?
By David Ashworth

Nov. 20 2020, Updated 2:24 p.m. ET
Why was the March 2016 policy statement dovish?
The Fed's March 2016 policy statement was dovish without a doubt. The Fed's December dot plot showed that there could be three or four rate hikes in 2016. Considering a uniform hike of 25 basis points in each instance, the dot plot meant that almost every other meeting could see a rate hike, and the total rate hike for the year could amount to 75–100 basis points. According to the March 2016 policy statement, policymakers now forecast only up to two rate hikes this year. This translates to a total rate hike of 50 basis points.
Article continues below advertisement
This could be called the biggest surprise of the statement. The ECB (European Central Bank) had a similar surprise in store when it released its stimulus measures earlier in March. But were US policymakers as dovish as economists Zach Pandl and Daan Struyven from Goldman Sachs recently stated? So far, the fixed income markets don't quite reflect that.
Keep an eye on inflation
One thing that is important for investors to do at this point is to keep a close eye on inflation. The iShares TIPS Bond ETF (TIP), the Vanguard Inflation-Protected Securities Fund Investor Shares (VIPSX), and the Fidelity Inflation-Protected Bond Fund (FINPX) have risen since the March statement was released. However, insurers' stocks (AJG) (AWH) (HIG) haven't reacted the same way. If inflation continues to rise, it may force the Fed's hand in raising rates even if other economic indicators don't support that decision.
Dovish going forward?
The graph above is from the September 2015 policy statement. That was quite surprising as one policymaker expected the federal funds rate would be negative by the end of 2016. One quarter later, though, the Fed not only raised the federal funds rate but also adopted an aggressive stance. After another quarter, we seem to be in much more moderate territory.
The Fed will prove its stance to be ultra-dovish if, by the next meeting, it scales down the number of rate hikes to one. However, given that two rate hikes in 2016 would place the federal funds rate in the range of 0.75–1.0% by the end of the year, more than double the present rate and only 25 basis points below the level anticipated in December, calling the March 2016 policy statement one of the most dovish of this century seems a bit much.
For further analysis, visit Market Realist's Mutual Funds page.