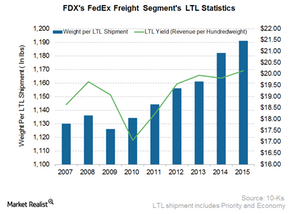 FedEx Freight: A Major Less-Than-Truckload Freight Service Company
By Samuel Prince

Updated
FedEx Freight
FedEx (FDX) provides less-than-truckload (or LTL) services in the US through FedEx Freight. FedEx Freight Priority offers a money-back guarantee without fees on eligible shipments. For time-sensitive business, services are rendered through FedEx Freight Priority, whereas FedEx Freight Economy serves no-time-priority customers. Through its vast network and advanced information systems, FedEx Freight renders service to almost every US zip code including Alaska and Hawaii.
Article continues below advertisement
Outside the US, FedEx Freight Canada provides FedEx Freight Priority service. It serves most points in Canada. Plus, FedEx Freight Priority and FedEx Freight Economy provide service between Canada and the US. FedEx Freight also serves Mexico, Puerto Rico, and the US Virgin Islands through partnerships.
FedEx electronic solutions facilitate LTL shippers with single shipping and tracking mechanisms for FedEx Freight, FedEx Express, and FedEx Ground. These solutions offer customers with simpler access to their account information.
The FedEx Freight Advance Notice feature notifies FedEx Freight customers regarding the transit status of a shipment. In addition, FedEx Freight A.M. Delivery offers freight delivery by 10:30 AM within and between the US and Canada.
The FedEx Freight segment operates 65,000 vehicles and trailers from a network of roughly 370 service centers.
FedEx Custom Critical
FedEx Custom Critical offers a variety of time-specific cargo shipping services throughout the US, Canada, and Mexico. Its umbrella of service offerings include:
Surface Expedite, an exclusive-use and network-based transport of critical shipments and expedited shipments
Air Expedite, a provider of a range of air solutions to meet customers' critical delivery times
White Glove Services for shipments that require extra care in handling
ShipmentWatch, an offering through which FedEx Custom Critical manages SenseAware devices to track customers' shipments
Competition and market share
The company's primary competitor in publicly traded LTL carriers is YRC Worldwide (YRCW). It had a slightly lower market share of 23.4% by tonnage compared with FedEx Freight's 24.3% in 3Q15. The next rival is Con-Way Freight, a recent acquisition of XPO Logistics (XPO), which has a 16.1% share. On the other hand, Old Dominion Freight Line (ODFL) and UPS Freight (UPS) enjoy a 13.4% and 9.0% share, respectively.
FedEx makes up 12.4% of the iShares Transportation Average ETF (IYT). Investors opting for diversified exposure can invest in the Guru Activist Index ETF (ACTX), which invests 2.3% in FDX.
FedEx invests considerably in technology to provide better service to its customers. In the subsequent part of the series, we'll take a close look at FDX's technological arm, FedEx Office.