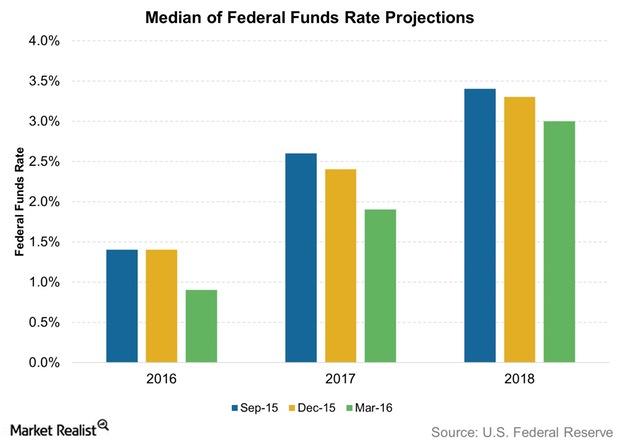 A Dovish Federal Reserve and US Equity Mutual Funds
By David Ashworth

Nov. 20 2020, Updated 5:17 p.m. ET
A dovish Fed
When the US Federal Reserve raised the target range of the federal funds rate on December 16, 2015, there were aggressive expectations regarding future rate hikes by some sections of the markets. Several policymakers were quite bullish in their assessments of where they saw the rate standing at the end of 2016.
An overwhelming 13 of the 17 policymakers who presented their positions in December 2015 expected the federal funds rate to be above 1% by the end of 2016. One member expected the rate to cross the 2% mark. The median of rate expectation in December was 1.4% for 2016 and 2.4% for 2017.
Article continues below advertisement
When these projections were released in March 2016, ten of the 17 participants opined that the rate would not exceed 1% by the end of 2016. The seven participants who still expected the rate to be above 1% did not anticipate it to breach the 1.5% level. The median of the rate expectations in March was 0.9% for 2016 and 1.9% for 2017.
Why the reduced expectations?
The world woke up in 2016 to distressing news emanating from China. Volatility was running rampant in China's financial markets as worries intensified regarding the economic slowdown percolating down to stocks. These worries spread to the rest of the world very quickly, given China's importance to the world economy.
Energy prices (SLB) (MUR) (CVX) just exacerbated the situation. Although WTI Cushing, Oklahoma, prices went over $38 per barrel in March, they had fallen to a low of $26.20 per barrel in February. Combined with news from China, crude oil prices have been directing stock market movement for the better part of year-to-date 2016.
The Federal Reserve has toned down its expectations of US economic growth in 2016, given the state of the global economy. It remains quite confident on the domestic front, though, as projections for the unemployment rate have been reduced.
In this series
We have been looking at some of the largest US equity mutual funds in detail for a few months. In this series, we'll take a look at a different set of funds from the same category (TWCUX) (VPCCX). First, we'll provide an introduction to the funds and then look at their performance using quantitative metrics including the Sharpe Ratio and Jensen's alpha. Finally, we'll draw a picture of your strategy regarding these funds in light of the macroeconomic and policy developments in the US.
Let's begin our analysis by introducing the Columbia Select Large Cap Growth Fund – Class A (ELGAX).