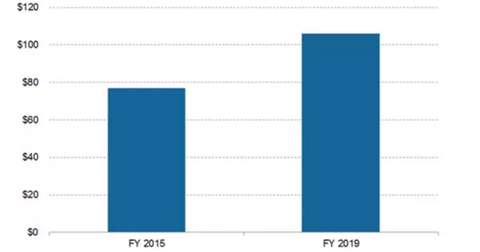 The Truth Behind IBM's X-Force Incident Response Services
By Anne Shields

Mar. 8 2016, Updated 2:08 p.m. ET
IBM's X-Force Incident Response Services
Previously in this series, we discussed IBM's (IBM) recent buyout, Resilient Systems, in the security space. With Resilient Systems under its umbrella, IBM announced the formation of a new unit, X-Force Incident Response Services. IBM's X-Force Incident Response Services will enable companies to "plan for, manage, and respond to cyberattacks."
In a recent study, the Ponemon Institute found that 70% of US security executives consented not to have a cybersecurity incident response plan. The average data breach cost has increased by 23% to $3.8 million in 2015, compared to 2013. According to Kaspersky Lab reports, data of approximately $1 billion worth has been stolen from 100 different financial institutions across Russia (RSX), Germany (EWG), Ukraine, China, and the US in past two years.

These facts show that cyberattacks are turning out not only to be an expensive business for the companies and geographies but also a challenging and tricky one.
Article continues below advertisement
Consolidation has started in cybersecurity space
IBM's acquisition of Resilient Systems also shows that as expected consolidation has started in the cybersecurity space. In February 2016, FireEye (FEYE) announced the acquisition of Invotas, a cybersecurity company that focuses on automation of security processes. Prior to Invotas, in January 2016, FireEye announced the acquisition of ISight Partners, a threat intelligence services provider, for $200 million.
In October 2015, Cisco Systems (CSCO) announced the acquisition of Lancope. All these acquisitions point toward a trend that established players in security space are acquiring startup or smaller companies in an effort to broaden and strengthen their security portfolio.
Lowered valuations
As we highlighted in our recent cybersecurity series, lowered valuations of cybersecurity stocks in 2016 have made them ideal acquisition targets. Andrew Nowinski, an analyst with Piper Jaffray, shared his opinion that valuations were high in the threat landscape in 2015, which made 2015 not a great year for consolidation.
However, valuations in the cybersecurity space have plunged recently. Reduced spending on enterprise software has led to a fall in security software companies' shares, which makes them a likely target for acquisition. (Please read Why the Cybersecurity Space Could See Consolidation in 2016 to know more.)
In the next part, we'll analyze IBM's strategy as seen through these recent acquisitions.