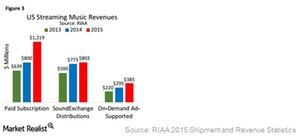 How Apple Music Climbed the Music Streaming Charts
By Shirley Pelts

Updated
Apple Music
It's impossible to discuss the music streaming industry without mentioning Apple Music (AAPL). Apple Music, which launched last year, has made an impressive debut in the music streaming industry, raking in around 10 million subscribers in the six months after its debut.
One of its competitors, Spotify, took six years to hit the 10 million mark. Apple Music is also offering some tough competition to Internet radio players like Pandora Media (P).
Early this year, top Apple executives Eddy Cue and Craig Federighi stated that Apple Music has more than 11 million paying subscribers. It has recorded monthly growth of 10% over its 10 million subscribers at the end of December 2015.
Article continues below advertisement
According to RIAA (Recording Industry Association of America) Shipment and Revenue Statistics, streaming services comprised 34.3% of the total revenues for the recording industry in the United States in 2015. As the above chart shows, paid subscription-based music streaming contributed $1.2 billion or $1,219 million to total music streaming revenues in the United States in 2015.
In this scenario, Apple Music is far more likely to succeed in the music streaming market than its competitors.
Why is Apple Music so likely to succeed?
In the company's last earnings call, Apple CEO Tim Cook stated that Apple had reached the milestone of 1 billion devices in its active installed base. Cue stated that 78% of the base uses iCloud, as many people own multiple devices.
Apple Music is available on both iOS and Alphabet's (GOOG) Android devices for $10 per month. The app costs $15 per month if up to six people want to share a single account via the family plan. This service offers a three-month trial at no charge. Apple Music is preinstalled on Apple's iPhone, which gives Apple a distinct advantage when it comes to gaining Apple Music subscribers. Considering the iPhone's popularity, far more people in the United States or international markets are likely to subscribe to Apple Music.
Apple Music also has a catalog of around 30 million songs—the same as Spotify but more than Pandora.
Apple makes up 3.5% of the SPDR S&P 500 (SPY). If you're interested in exposure to the computers sector, note that SPY has 4.1% exposure to the sector. SPY also has 2.5% exposure to Microsoft (MSFT).