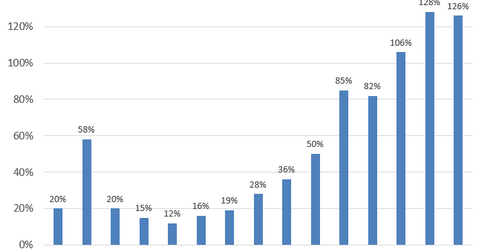 Why Alibaba Is Collaborating with Nvidia
By Parker Thomas

Mar. 11 2016, Updated 3:06 a.m. ET
Big data
Alibaba's (BABA) arm AliCloud is expanding its cloud capability and artificial intelligence by collaborating with Nvidia (NVDA). AliCloud will boost its capacity to build a platform for big data that will be capable of storing, analyzing, and processing a chunk of data to extract meaningful information. The company is expected to invest $1 billion, as it believes that demand for the storage and processing of data will increase as more and more companies lean towards remote infrastructure.
Article continues below advertisement
Alibaba can take advantage of AliCloud for processing data that it generates from its online-retail market. This market is expected to reach 10 trillion yuan (or $1.5 billion) by 2020, according to Bain & Co. The company is planning to expand its presence by building data centers in Silicon Valley and Europe (EFA). Tech giants Microsoft (MSFT), Amazon (AMZN), and Google (GOOG) have benefited from shifting to the cloud and are willing to invest more in building data centers around the globe. In November 2015, Amazon and Microsoft announced they will build a data center for their cloud computing business in the United Kingdom.
AliCloud's performance
During the recent quarter, revenue from cloud computing came in at 81 million renminbi, an increase of 126% YoY (year-over-year). Based on its current growth rate and growing demand for cloud computing, AliCloud may constitute more than $1 billion of Alibaba's revenues by 2018, according to SunTrust Robinson Humphrey.
AliCloud and Chinese Academy of Science co-founded a quantum laboratory that will help build AliCloud's data center, a powerful computing platform, with the additional capability of processing data. Moreover, AliCloud said, "The company will team up with Santa Clara, California-based Nvidia to provide customer support in the areas of deep-learning and high-performance computing."