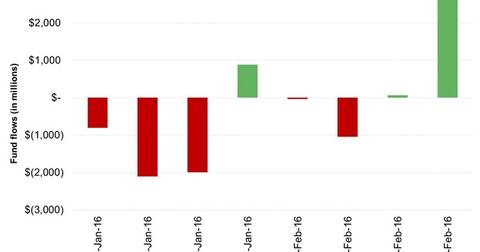 Is It Time to Offload High Yield Bond Mutual Funds?
By David Ashworth

Updated
The attraction toward high yield bonds
The primary reason that high yield bonds are attractive is because they provide much higher yields than bonds of other classes. For issuers who want to raise money from the market, credit ratings become of crucial importance. If a rating agency rates a bond as junk, the issuer will not find any takers until and unless it's willing to offer a higher yield—sometimes a much higher yield—than similar maturity investment-grade corporate bonds and Treasuries.
Article continues below advertisement
High yield bonds are closer in behavior to equities than other types of bonds. YTD (year-to-date) in 2016, the Ivy High Income Fund Class A (WHIAX) has fallen 4.3%, while the S&P 500 has fallen 4.5%. In the past year leading up to February 25, 2016, WHIAX has underperformed equities, with a fall of 12.3% versus a fall of 7.7% by the S&P 500.
Should you stay put or sell?
The graph above shows the weekly flows into high yield bond funds in YTD 2016. Had it not been for the inflows in the week ended February 24, the picture would have been terrible for these funds. Though companies such as Pinnacle Foods (PF), Treehouse Foods (THS), Centene (CNC), and Lamar Media—a wholly owned subsidiary of Lamar Advertising Company (LAMR)—have issued junk bonds so far in 2016, the volume has been very low.
If you're not invested in these funds, this may not be the right time to think about getting in. Since high yield bonds are closer in behavior to equities, you should look at corporate results. If these are good for two successive quarters, then you may think about getting into high yield bond mutual funds in order to benefit from higher yields.
If you're already invested in these funds, your next course of action depends on the losses you're willing to bear along with the patience that you can practice. If you are patient, you can leave your investment alone and forget about it for at least a year. On the other hand, if volatility is making you antsy, it would be best to offload high yield bond mutual funds (VWEHX) (MHITX) and look for better opportunities to reinvest.
As mentioned for investment-grade bond funds, do keep a check on duration. As of now, short-duration, high yield bond mutual funds seem to be the better option, even if rate hikes are slower than earlier anticipated.
The next article will discuss strategies for fixed income mutual funds in general. It outlines the factors you should watch out for.