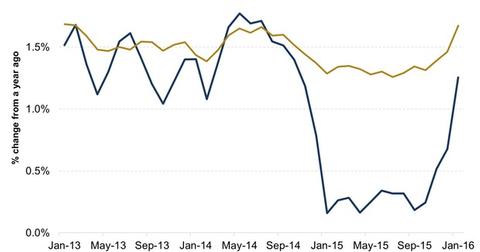 Is Personal Consumption Expenditure Inflation Heading Toward 2%?
By David Ashworth

Updated
What is PCE inflation?
Inflation has several measures, the more popular ones being the CPI (consumer price index) and PPI (producer price index). However, policymakers at the Federal Reserve use a separate measure of inflation called PCE inflation.
This is the price index for personal consumption expenditures (or PCE). According to the central bank, this indicator is the "most consistent over the longer run with the US Federal Reserve's statutory mandate."
Article continues below advertisement
Why does PCE have a bearing on monetary policy?
The rise in inflation in an economy, apart from other things, dictates consumption patterns. A surge in prices will deter consumers from consuming more. This is not to say that low inflation, or deflation, is a good thing. Reflation is indicative of a receding economy.
The US Federal Reserve is mandated by Congress to maintain the level of PCE inflation at 2% in the long term. As seen in the graph above, the indicator was below this level for quite some time. A fall in crude oil prices beginning in mid-2014 not only impacted energy companies around the world such as Royal Dutch Shell (RDS.B), BP (BP), and Statoil (STO), but also was the primary reason PCE inflation tanked.
However, both core PCE, which excludes food and fuel prices, and PCE inflation rose in December 2015 and January 2016. This should give confidence to policymakers as far as rate hikes are concerned.
Investors should remember that the pace of inflation doesn't need to reach 2%, it just needs to move ahead sustainably toward that level to indicate the readiness of the economy for further rate hikes.
Why PCE inflation requires a close watch
While announcing the rate hike in December 2015, the Federal Reserve said that inflation would be in its focus as far as future rate hikes are concerned. For fixed income investors (PONAX) (PDINX), the pace of the rise in PCE inflation will be crucial.
The central bank may have indicated a slow pace for now, but if inflation surges like it did in January, central bankers will likely have no choice but to respond by hiking rates, even sharply, if required. This will hurt fixed income investments and may require you to aggressively position your portfolio toward shorter duration mutual funds.
Apart from PCE inflation, another indicator that investors must track is break-even inflation. Let's look at this in the next article.