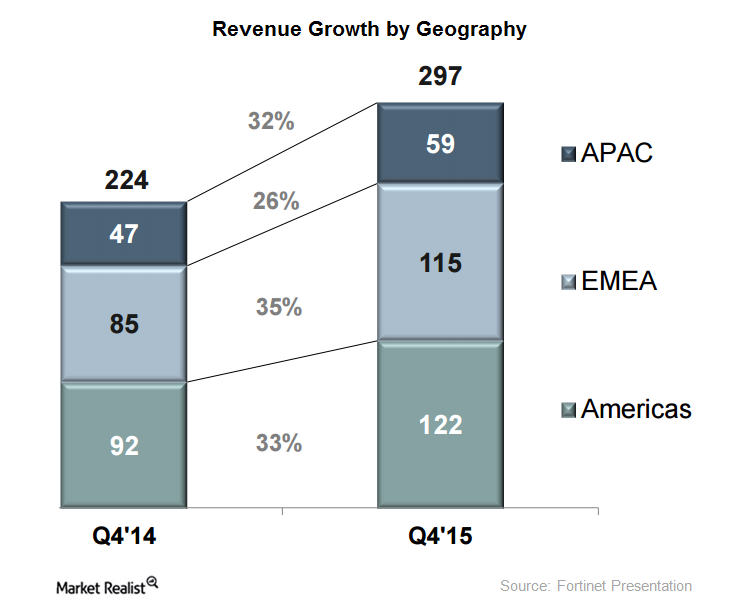 How Might Asia-Pacific Represent an Opportunity for Fortinet in the IoT Space?
Fortinet's revenue grew across all geographies
Previously in this series, we discussed Fortinet's (FTNT) recent volatile stock performance. In this article, we'll discuss how Fortinet's growth across all geographies namely the Americas, APAC (Asia-Pacific and China [MCHI]), and EMEA (Europe [VGK], the Middle East, and Africa) provide growth opportunities. In 4Q15, the Americas, APAC, and EMEA reported 33%, 26%, and ~35% growth, respectively, as the illustration below shows.
Article continues below advertisement
Increased spending on IoT
Although APAC growth lagged behind growth in the Americas and EMEA, it provides an opportunity to Fortinet, a major network security firm, to capitalize on the growing IoT (Internet of Things) phenomenon in Asia-Pacific. According to IDC, spending on IoT is expected to grow at a 17% CAGR (compound annual growth rate) to approximately $1.3 trillion in 2019 from $698.6 billion in 2015.
Of this total IoT spending, more than 40% is expected to be in Asia-Pacific in 2015. Western Europe and North America are expected to spend more than $250 billion in 2015, which is little less than 33% of the total IoT spending. FortiGuard Labs, Fortinet's threat research division, is of the opinion that IoT vulnerability to malicious threats and tactics will increase in 2016.
Increased spending on BYOD
As part of the SMAC (social, mobile, analytics, and cloud) revolution, the BYOD (bring-your-own-device) concept promises to increase as the mobile workforce changes the cybersecurity landscape. (For related analysis, check out "SMAC and BYOD Are Fueling Growth in Cybersecurity Space.") Syntonic, which is a mobile platform service provider, expects global BYOD usage to grow by 20% in 2016. European BYOD acceptance is expected to grow by 30% CAGR and is likely to outpace the rest of the world.
Additionally, Fortinet acquired Meru Networks, a Wi-Fi networking provider, for $44 million in 2014. It then launched its FortiGuard mobile security subscription offering for Apple (AAPL) iOS and Google (GOOG) Android devices.
Susceptibility to new security risks?
We should bear in mind that the increased IoT and BYOD adoption globally, especially in Asia-Pacific and Europe, has made networks vulnerable to new types of security risks, and this offers a plethora of new opportunities for a network security company like Fortinet to keep growing.