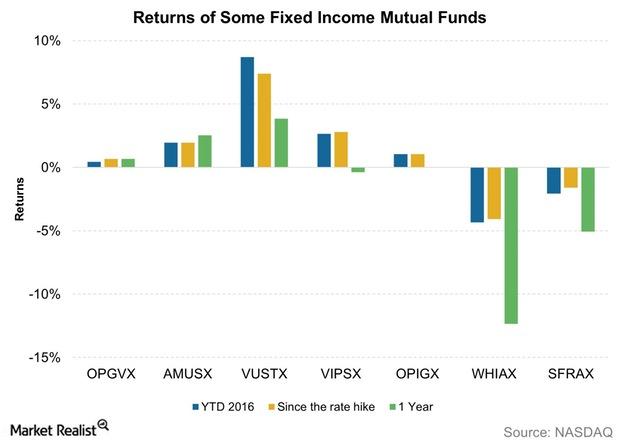 How Are Fixed Income Mutual Funds Looking 2 Months into 2016?
By David Ashworth

Nov. 20 2020, Updated 11:12 a.m. ET
Fixed income mutual funds in 2016
The pulse of the financials market has been volatile since 2016 dawned. China, North Korea, and commodities prices, for their own reasons, have instilled fear into markets, which markets are finding difficult to shake off.
Usually, when volatility is the order of the day, investors flock to safe assets. Gold and fixed income products come to mind when we talk about safety. With the US Federal Reserve having hiked rates in December 2015, investors have started moving away from longer-maturity bonds and associated mutual funds (PRULX) and into shorter maturity bonds.
Article continues below advertisement
Apart from rate hikes in 2016 worrying investors, there were several other issues being faced by fixed income markets that were making bonds seem not as safe as 2016 rolled around. One of them was bond market liquidity. Earlier, we also explored experts' opinions on fixed income strategies for 2016.
In this series
In this series, we'll look at how fixed income mutual funds have fared in 2016 so far. We'll start with a simple performance evaluation, then dig deeper into Treasuries, investment-grade corporate bonds, and high yield bonds.
A look at the graph above shows that except for high yield (WHIAX) and floating-rate (SFRAX) funds, other types of fixed income mutual funds have posted positive returns year-to-date (or YTD) in 2016. The Vanguard Long-Term Treasury Fund Investor Shares (VUSTX) has outpaced all other funds. VUSTX has also been the best performer in the past year.
Inflation-protected fixed income mutual funds (VIPSX) have outdone investment-grade corporate bonds (OPIGX).
Corporate bond issuers (ACHC) (SNH) (PX) have been wary of raising debt in 2016. We'll explore why later in the series.
First, let's take a look at how Treasuries have fared YTD in 2016.