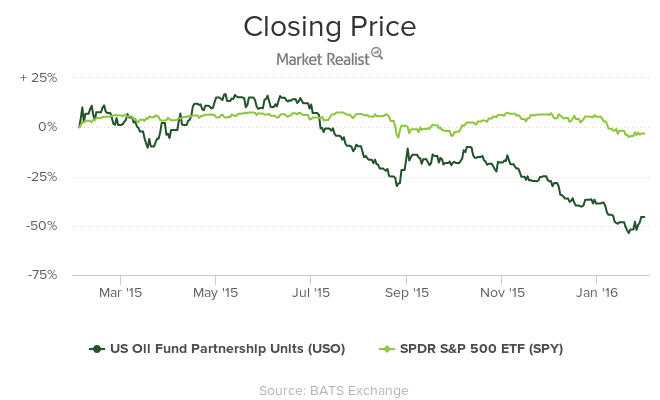 Why Did Crude Oil Prices Rise for the Fourth Day?
Crude oil price movement 
NYMEX-traded WTI (West Texas Intermediate) crude oil futures contracts for March delivery rose by 1.2% and settled at $33.62 per barrel on January 29, 2016. ICE-traded Brent crude oil futures rose by 2.5% and settled at $34.74 per barrel. Crude oil prices rose for the fourth straight day due to short covering and speculation of a crude oil production curb from Russia and OPEC (Organization of the Petroleum Exporting Countries). Oil-tracking ETFs like the United States Oil Fund (USO) and the ProShares Ultra Bloomberg Crude Oil ETF (UCO) diverged from the price trajectory of crude oil prices. These ETFs fell by 0.52% and 0.73%, respectively. The SPDR S&P 500 ETF (SPY) also moved in the direction of crude oil prices.
[marketrealist-chart id=1015561]
Article continues below advertisement
US GDP data and Federal Reserve 
On January 29, 2016, the U.S. Department of Commerce reported that the US GDP (gross domestic product) grew by 0.7% in 4Q15. The US economy grew by 2% and 3.9%, respectively, in 3Q15 and 2Q15, respectively. The US economy was steady in 2015 despite slower growth in 1Q15 and 4Q15. The fragile US GDP data also cemented that the Fed will slowly raise the interest rate in 2016. This means that the US dollar will appreciate slowly. It would make dollar-denominated crude oil prices more affordable for oil importing countries in their local currency. This supported oil prices in Friday's trade.
Weak Chinese data 
The Chinese PMI (purchasing managers' index) was at 48.4 for January 2016—compared to the market expectations of 48. PMI data above 50 suggest expansion. Data below 50 suggest a contraction in the business activity. Weak PMI data will continue to put pressure on oil prices. China is the second-largest crude oil consumer. Long-term lower oil prices impact oil producers like Royal Dutch Shell (RDS.A), ExxonMobil (XOM), Chevron (CVX), and Marathon Oil (MRO). In contrast, it benefits refiners like Western Refining (WNR), Alon USA Partners (ALDW), and Northern Tier Energy (NTI). It would continue to put pressure on oil prices.
Oil price volatility 
Crude oil prices rose more than 25% since January 20, 2016. Prices rose due to short covering, the depreciating US dollar, and speculation of collective production cuts. Crude oil prices fell almost 70% since June 2014 due to record production from the US, Russia, and Saudi Arabia. Read more about their production and possible alliance in the next two parts of the series. However, scaling up the crude oil production from OPEC and ramping up the production from Iran will continue to put pressure on the energy market. The record US inventory will also put pressure on oil prices. To learn more about the nationwide inventory, read Crude Oil Bull Market Ignores Big Rise in EIA Inventory Data. It's important to note that the current WTI-Brent spread makes US crude oil exports unviable.