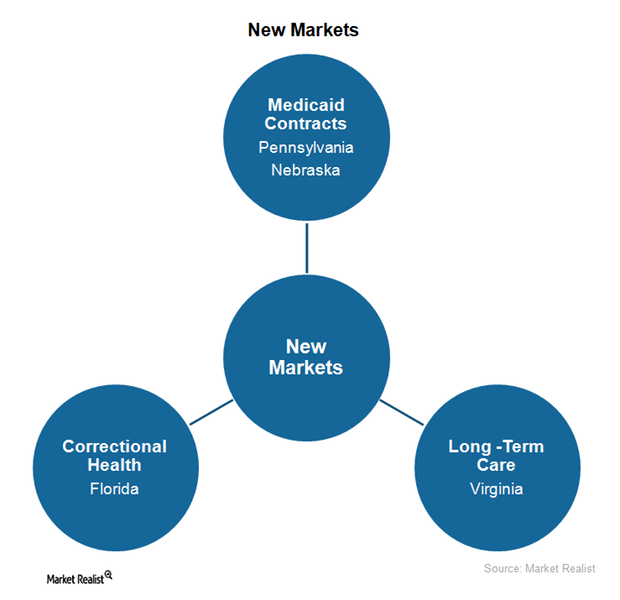 Managing the Revenue Expectations for Centene's New Market Entry Strategy
By Margaret Patrick

Nov. 20 2020, Updated 10:47 a.m. ET
Centene's new market entry strategy
To ensure high-profit margins through 2017, Centene Corporation (CNC) has adopted a growth strategy of entering new markets across its Medicaid, long-term care, and correctional health business segments.
Article continues below advertisement
Medicaid contracts
Centene has submitted bid to participate in Pennsylvania's Health Choice program, developed by Department of Public Welfare for Medicaid beneficiaries in the state. In this program, people can choose HMO (health maintenance organization) of their choice from a list of plans in the program. If successful, as of January 1, 2017, the company could offer plans to about 1.9 million Medicaid beneficiaries across five zones in the state.
Additionally, Centene has also targeted the Community HealthChoices program, which is aimed at serving LTSS (long-term services and support services) beneficiaries and members who are eligible for both Medicare and Medicaid programs, or "dual eligibles." If Centene manages to enter this program, it will allow the company to access an additional 450,000 members from January 1, 2017.
Article continues below advertisement
Implementing Nebraska
On February 8, 2015, Centene announced that the company was selected as one of three managed care organizations to implement Nebraska's Heritage Health program. According to a press release published by Centene, Heritage Health is "a new healthcare delivery system that combines Nebraska's current physical health, behavioral health, and pharmacy programs into a single comprehensive and coordinated system for 230,000 Medicaid and Children's Health Insurance Program (CHIP) enrollees."
The program is expected to be operational as of January 1, 2017, and is targeted at about 230,000 Medicaid and CHIP members in Nebraska. However, Heritage health does not include dental and LTSS. Centene thus expects to further leverage this contract and enter the state's long-term care market. As a low-margin business, other health insurance companies such as UnitedHealth Group (UNH), Cigna (CI) and Humana (HUM) are also targeting high-acuity patients in an effort to boost their total revenues.
Article continues below advertisement
If Centene manages to enter these new markets, it will imply increased profit margins and subsequent rise in the company's share price. This is also expected to help boost share prices of the Guggenheim S&P MidCap 400 Pure Growth ETF (RFG) as Centene accounts for about 2.6% of RFG's total portfolio holdings.
Long-term care contracts
Centene is also targeting the MLTSS (managed long-term services and supports) program in Virginia, which is expected to go live after January 1, 2017. Virginia has submitted an application for a waiver that also includes the MLTSS program. If included in the program, Centene will get exposure to additional 130,000 high-acuity patients. (To know more about this kind of waiver and related hybrid plans, please refer to "Centene: Insurance Exchange Opportunity and Hybrid Plans.")
Correctional health
On February 1, 2016, Centene announced that it has entered into an agreement with Florida Department of Corrections to provide healthcare services to about 70,000 members across three regions in the state's correctional facilities. The company could earn maximum annual revenues of $267 million from the contract, which will become operational from the second quarter of 2016 and extend until January 2018. The company plans to offer these services through Centurion, a joint venture subsidiary of Centene and MHM Services.
In the next part, we'll discuss the Centene's public exchange business as well as its strategy for this segment for 2016.