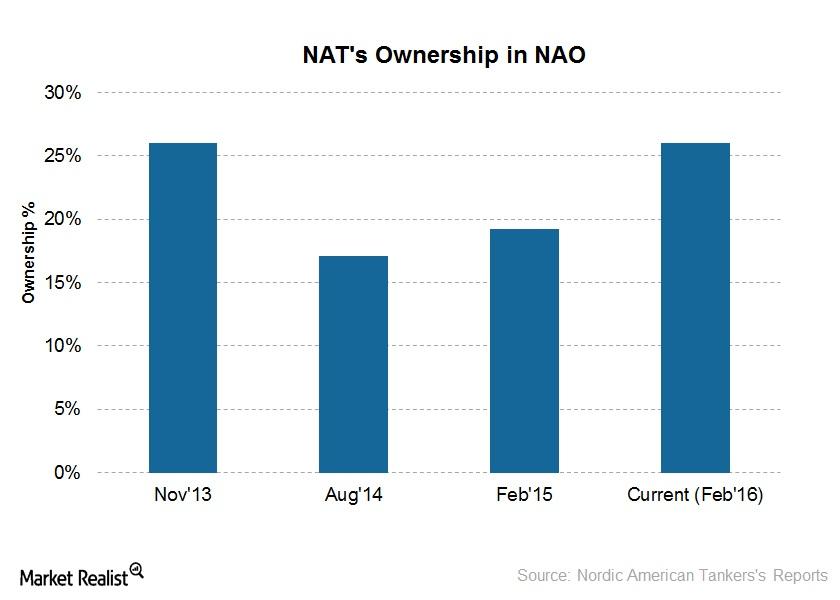 Analyzing NAT's Increased Ownership in NAO
By Sue Goodridge

Mar. 2 2016, Updated 12:04 p.m. ET
Increased ownership in Nordic American Offshore
On November 12, 2015, Nordic American Tankers (NAT) announced an agreement to purchase 1,521,300 shares in Nordic American Offshore (NAO). This increased Nordic American Tankers' ownership in Nordic American Offshore from 19.8% to 27%.
Now, Nordic American Tankers owns a total of 6,018,280 Nordic American Offshore shares. The company bought these shares in a private transaction effective November 12 at $6.25 per share. The total investment was $9.5 million.
Article continues below advertisement
NAO's share price
As of February 11, 2016, the share price of NAO was $3.70, which is significantly lower than the price at which Nordic American Tanker increased its investment in 4Q15. NAT noted in its fourth quarter earnings that the market value of NAT's share in NAO is currently lower than the book value. However, the company believes this to be temporary.
About Nordic American Offshore and Nordic American Tankers
Nordic American Tanker transports crude oil by ships, and it operates only Suezmax tankers. Currently, it has 24 Suezmax vessels on water. Among its peers, DHT Holdings (DHT) operates mainly VLCCs (very large crude carriers). It has 15 VLCCs, which comprise 79% of its total fleet. Also, Euronav (EURN) has 28 VLCCs, which comprise 52% of its total fleet.
Teekay Tankers (TNK) has 22 Suezmax and 22 Aframax tankers in its total fleet of 64 tankers. Nordic American Offshore owns eight PSVs (platform supply vessels). Two of the vessels are newbuilds, which will be delivered in 2016. PSVs are used to transport supplies to oil platforms.
Article continues below advertisement
Other financial income
Nordic American Tanker records its investment in Nordic American Offshore as an equity method investment. In this method, the company reports its share of Nordic American Offshore's profit or loss, dividends received, and gain or loss on investment in an income statement under "other financial income." This has an impact on Nordic American Tankers' profit.
Nordic American Tankers' "other financial income" amounted to a loss of $1.39 million in the fourth quarter as compared to $0.678 million in the previous quarter. In other words, Nordic American Tankers' profit fell by $1.39 million due to its ownership in Nordic American Offshore.
Industry outlook: PSV market
The market for PSVs has been negatively impacted by the fall in oil prices. The demand for PSVs is closely related to offshore exploration activities. The outlook for offshore drilling remains bleak in 2016.
Earlier in November 2015 Wall Street analysts had estimated a loss of $7.9 million for NAO in 2016. As oil prices have plunged, analysts have further predicted a greater loss for the company. Currently, the estimate stands at a $13 million loss in 2016.
Investors who are interested in broad exposure to industrials can invest in the SPDR Dow Jones Industrial Average ETF (DIA).