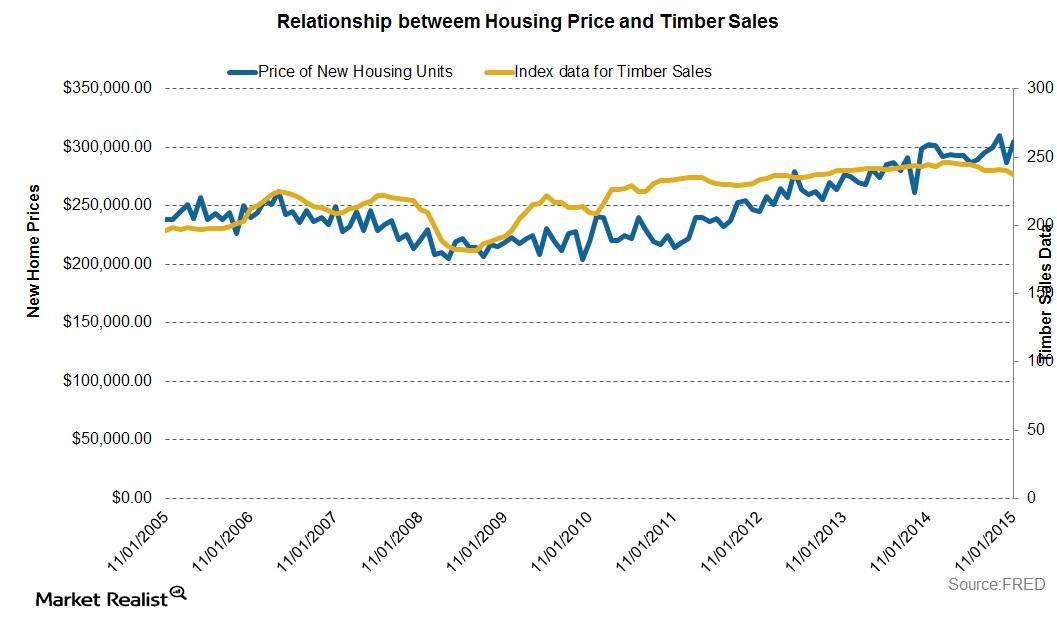 The Timber Industry and Its Relationship with REITs
The impact of the timber industry on REITs
The timber industry and its products have been an integral part of the US manufacturing base and state economies. The industry employs over 80,000 workers across the United States. US lumber production has an enormous impact on single-family homes and has a long relationship with the housing market.
Article continues below advertisement
Relationship between timber and housing market
The timber market is highly correlated with the housing market. US timber and lumber sales fell during the 2008 housing bubble collapse. The average price of new homes during the crisis was $225,200. Prices rose significantly, to $305,000, in 2015.
The graph above shows the relationship between timber and housing prices over the years.
Industry statistics
of the United States' total area of 2.2 billion acres, forest covers 747 million acres
wood volume is 25% greater than it was 40 years ago
annual US forest growth has consistently outperformed harvest since 1940
Over $100 million has been spent on wildlife and environmental research
the industry provides employment to over 1.4 billion people and makes products worth more than $200 billion annually
The above points outline the nature of the industry and its determination to grow. To gain exposure to REITs Weyerhaeuser (WY), Plum Creek Timber (PCL), Rayonier (RYN), and Potlatch (PCH), you could invest in the iShares Dow Jones US Real Estate ETF (IYR). The four companies constitute 3.6% of the total 25.1% held by specialized REITs.