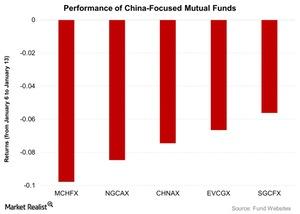 SSE Composite Index Has Fallen 12.3% in the Last Week
By Lynn Noah

Dec. 4 2020, Updated 10:52 a.m. ET
SSE Composite Index fell
The Shanghai Stock Exchange Composite Index (SSE) fell by 12.3% from January 6 to January 13, 2016, and closed at $2,949.60 on January 13, 2016, on increased concerns that China's economic growth could slow further and depreciating currency could result in larger capital outflows. The record drop in foreign exchange reserves cemented the fact that capital drain is a serious issue for China.
The SSE Composite Index includes all listed stocks (A- and B-shares) on the Shanghai and Shenzhen Stock Exchanges. A-shares are shares denominated in domestic currency, the renminbi (RMB), which is available only to local investors. B-shares are shares denominated in foreign currency, such as in US dollars on the Shanghai Stock Exchange and Hong Kong dollars on the Shenzhen Stock Exchange. These are available to foreign investors.
Article continues below advertisement
Yuan depreciation and panic-selling
The People's Bank of China (or PBoC) again surprised the market on January 7 by setting the official midpoint rate on the yuan, also known as the renminbi, at 6.6 per dollar, the lowest since March 2011. The depreciation of the yuan could mean that China's economy is even weaker than it had seemed earlier. Investors fear that this could trigger a currency war among its trading partners.
In another important development, stock trading was halted by automatic circuit breakers on January 4 and January 7—twice in the first week of 2016—due to panic-selling. Chinese authorities recently implemented the circuit breaker mechanism to curb volatility in the stock market. The circuit breaker mechanism halts stock trading once losses reach a threshold of 7%.
Returns of China-focused mutual funds
From January 6 to January 13, the Matthews China Investor Fund (MCHFX) turned out to be the worst performer with a return of -9.8%.
The returns of the Columbia Greater China A Fund (NGCAX), the Clough China Fund Class A (CHNAX), and the Eaton Vance Greater China Growth Fund Class A (EVCGX) fell by 8.5%, 7.5%, and 6.7%, respectively.
The Shelton Greater China Fund (SGCFX) posted the smallest negative return, with a fall of 5.6% for the same period.
With the fall in oil prices, American depositary receipts (or ADRs) of Chinese energy companies such as CNOOC (CEO), Sinopec (SNP), and PetroChina (PTR) fell by 8.6%, 4.2%, and 8.8%, respectively, from January 6 to January 13.
For the same period, ADRs of Chinese tech giants such as 58.com (WUBA), Baidu (BIDU), Alibaba Group (BABA), and JD.com (JD) fell by 11.1%, 10.6%, 9.1%, and 6.7%, respectively.
In the next article, we'll look at the view of Mark Mobius on Chinese economy.