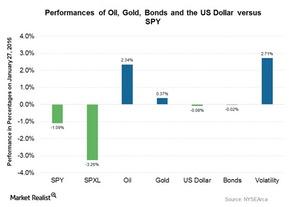 SPY Slid by 1.1% on Fed's Decision to Keep Interest Rate Unchanged
By Renee Blakely

Jan. 28 2016, Updated 6:39 p.m. ET
After news from Fed, SPY and SPXL both lost 1.1%
The SPDR S&P 500 ETF (SPY) and the Direxion Daily S&P500 Bull 3X ETF (SPXL) tumbled by 1.1% and 3.3%, respectively, on January 27, 2016. And this time, it was not on account of the collapse in oil prices but instead due to the US Federal Reserve's decision not to hike interest rates at its January FOMC (Federal Open Market Committee) meeting.
After the Fed's meeting announcement, many US equities tumbled on the Fed's statement acknowledging economic growth concerns. So let's look specifically at the market response following the Fed's meeting outcome on January 27.
Article continues below advertisement
Market overview on the day of the Fed's decision
The graph below presents the market snapshot from various aspects as of January 27, 2016. The US Dollar is represented above by the PowerShares DB US Dollar Bullish ETF (UUP). Oil is represented by the United States Oil Fund (USO), and gold is represented by the SPDR Gold Trust (GLD). The treasury bond market is represented by the iShares 20+ Year Treasury Bond (TLT) while volatility is represented by the Volatility S&P 500 (VIX).

US dollar falls on the Fed's decision not to hike
After reviewing global economic and financial developments, the US Federal Reserve expect inflation to remain low in the short-term owing to oil prices slump followed by the drop in other commodity prices. Although the Fed is confident about labor market conditions, the recent slowdown in the economic activity globally remains a major concern for the Fed.
Specifically, oil prices have trouncing corporate profits, bank earnings, and consumer spending, and the trend could cause layoffs. Besides, there's been a lingering slowdown in the economic activities of Europe and China, and these appear to have led to the Fed's decision to keep interest rates unchanged.
Gold's uptick following the market-wide tumble
These concerns contributed to a general slide in US equities, the US dollar, and Treasury bond prices. That said, with this latest rise in volatility, the safe haven of gold jumped by 0.4% on January 27. Thus, gold mining companies Newmont Mining Corporation (NEM), Barrick Gold Corporation (ABX), Royal Gold (RGLD), and Goldcorp (GG) lifted by 5.1%, 3.3%, 4.3%, and 3.5%, respectively, on the day.
Now let's look at SPY's performance on Wednesday, January 27.