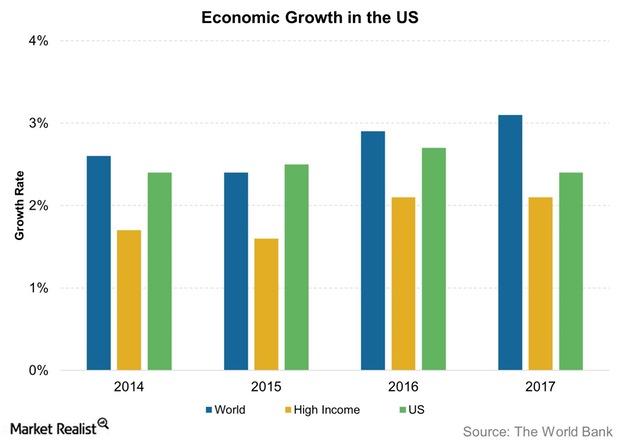 You Shouldn't Be Overweight in US Large-Cap Equity
By David Ashworth

Jan. 19 2016, Updated 9:18 a.m. ET
The World Bank on the US economy
The World Bank estimated that the US economy grew by 2.5% in 2015, a pace it said was "the highest annual rate in the post-crisis period." The Bank noted the role of domestic demand in helping the economy and added that it was supported by dynamic investment in sectors besides oil.
The World Bank was positive on the US labor market, calling its conditions "solid." However, it remained concerned about slack in the labor market—represented by the participation rate—that continued to fall. The Bank opined, "A recovery in housing markets and prospects of strengthening wage growth amid tight labor market conditions support a positive outlook in 2016."
Article continues below advertisement
Factors to watch
Investors should keep a close watch on inflation metrics and measures like PCE[1. Personal consumption expenditure] inflation, breakeven inflation, and market-based inflation expectations. Though the Federal Reserve hiked interest rates in December 2015, some central bankers expressed their concern on low PCE inflation growth.
If the labor market remains strong, inflation will very likely guide monetary policy in the United States. Though energy prices (XOM) (COP) (CVX) are expected to keep inflation in check, a sustained rise can still lead to aggressive policy tightening by the US central bank.
Investors should also watch for…
Corporate results. Apart from monetary policy, corporate results will be the key to the performance of US equities. BlackRock sees US equities as fully valued. If you subscribe to this view, then we believe active management will play an even greater role this year. A manager who has invested across market cycles—and has performance on his side—will still be able to get you that alpha.
Though you shouldn't be overweight in US large-cap equity mutual funds like the Harbor Capital Appreciation Fund – Investor Class (HCAIX) and the MainStay Large Cap Growth Fund – Investor Class (MLINX), among several others, you could be invested in an actively managed product instead of a passively managed one. You could reallocate to a fund manager who has proven skills as a stock picker, as those skills would likely provide you with superior returns in 2016.
From the United States, let's turn our attention to how the European economy is expected to perform in 2016 and beyond.