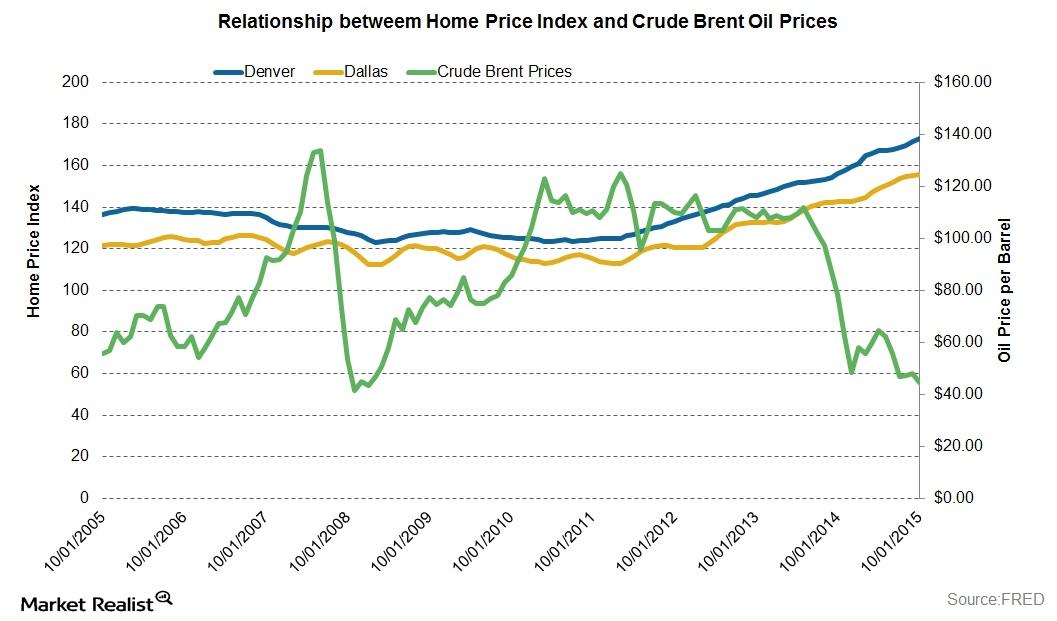 Both Positive and Negative Impacts by Oil Prices on REITs
By Steve Sage

Jan. 13 2016, Updated 8:07 a.m. ET
Oil prices dive deep down
The start of the first week of January 2016 saw major indexes like the S&P 500 and the Dow Jones Industrial Average end the week of January 8, 2016, with returns of -5.9% and -6.2%, respectively. The US markets were plagued by concerns over plunging oil prices and a slowdown in China's economy. Oil prices for Brent crude (ICE) and WTI[1. West Texas Intermediate] crude oil (on Nymex) were respectively trading at $33.5 and $33.1 per barrel on January 8, 2016.
The graph above shows the relationship between the home price index of energy hubs like Dallas and Denver along with crude Brent oil prices.
Article continues below advertisement
Impact of plunging oil prices on REITs
Oil prices can play a crucial part in determining the direction of REITs. A few of the positives and negatives affecting REITs are listed below.
Positives
Consumer spending plays a significant role in driving economic growth as this spending constitutes two-thirds of US gross domestic product. Lower oil prices can install confidence in spending activity of the consumer. This can have a positive impact on the sales volume of shopping malls and local outlets, or in other words, on properties held by US REITs like Simon Property Group (SPG) and Regency Centres (REG).
Also, rising consumer spending can benefit the corporate business leading to a rise in leasing activity.
Finally, industry sectors like airlines, shipping, and railways that depend on energy prices are direct beneficiaries of falling oil prices.
Negatives
Some of the REITs have underlying exposure to the United States' largest energy markets. Energy hubs like Dallas, Houston, and Denver where REITs own and operate offices, apartment buildings, shopping malls, and industrial warehouses can face the direct impact of falling oil prices. REITs like Camden Property Trust (CPT), Duke Realty (DRE), and Equity Commonwealth (EQC) have a portfolio concentration of more than 10% exposure to the key energy markets.
Investors can get exposure to the REITs mentioned above by investing in a REIT ETF like the iShares US Real Estate ETF (IYR).