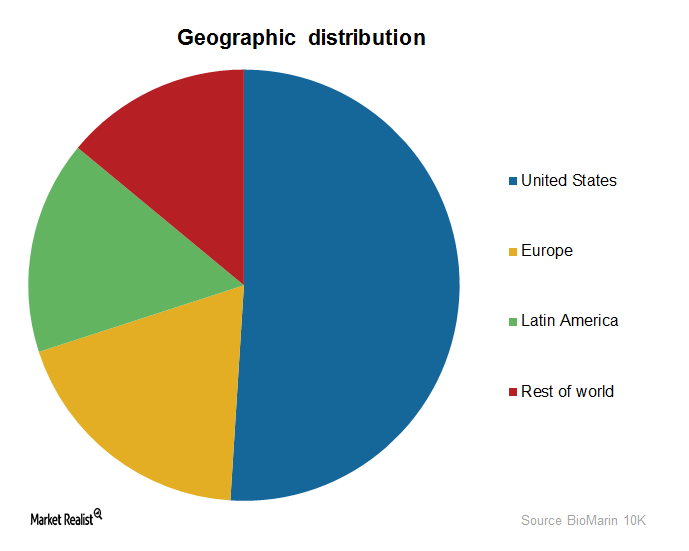 R&D Failure Is the Principal Risk Faced by BioMarin
By Jillian Dabney

Jan. 19 2016, Updated 12:05 p.m. ET
Risks
The biotechnology industry operates in a dynamic environment embedded with a high-risk business model. The principal risk faced by the industry is R&D (research and development) failure risk. Along with risks that are specific to the industry, BioMarin (BMRN) encounters various risks such as currency fluctuation and credit risks.
Article continues below advertisement
Currency fluctuation risk
The graph above presents the geographic revenue distribution for BioMarin. The company derives ~51% of its net product revenue from the United States. The remaining 49% is earned from international markets, and the company faces currency fluctuation risk. A strong dollar against a respective foreign currency would result in falling revenue for the company.
Credit risk
As of December 2014, two of the largest customers of the company held ~60% of the total receivable balance. This exposes the company to the risk arising from default.
Article continues below advertisement
R&D failure risk
Pipeline drugs are the revenue drivers for pharmaceutical or biotechnology companies. The annual revenue for BioMarin for 2014 was ~$751 million, whereas the company's market capitalization as of January 4, 2016, is ~$17 billion. This higher valuation comes from the promising pipeline of the company. The company plans to launch three drugs in 2016, namely Kyndrisa for Duchenne muscular dystrophy (or DMD), Pegvaliase for phenylketonuria (or PKU), and Cerliponase alfa for CLN2 disorder, a late infantile form of Batten disease. Pegvaliase, along with the existing drug Kuvan, presents a $1 billion opportunity.
Similarly, the pipeline also includes BMN044, BMN045, and BMN053 for the indication of DMD. Sarepta's (SRPT) eteplirsen and PTC's (PTCT) ataluren are in the final stages for approval in the United States for DMD. PTC targets a different subset of the DMD population, whereas the target population for eteplirsen and Kyndrisa would be common. BMN044, BMN045, and BMN053 are molecules that target different exon-skipping responsiveness.
An anticipated approval or rejection for Kyndrisa might result in volatility for BioMarin equity. Giant companies such as Merck (MRK) and Eli Lilly (LLY) also have experienced late-stage drug failure. To avoid direct risk exposure, investors can participate in the iShares Exponential Technologies ETF (XT). XT holds 0.54% of its total holdings in BioMarin stock.