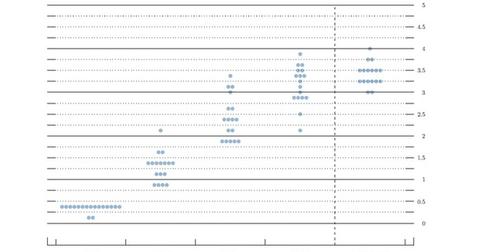 Rate Hikes in 2016: Rebalancing Your Bond Mutual Fund Portfolio
By David Ashworth

Updated
What comes after rate liftoff?
In 2015, the rise of the federal funds rate was among the most prominent focus areas for financial markets around the world. December 16, 2015, was a historical day, as it marked the first rate hike since June 2006 and the first time that any change was made to the rate since December 2008.
We've moved on from historically low interest rates. What happens now? For those of us who started investing less than a decade ago, we've become accustomed to a low interest rate and haven't seen rising interest rates for the most part of the last decade.
Article continues below advertisement
Prior to the rate hike, we did a study of how various asset classes performed in a rising interest rate environment in the past three rate hike cycles. That study provides historical context, but we need to remember that past behavior is not predictive of the future. For instance, banks (JPM) (WFC) (USB) should theoretically emerge as winners in a rising interest rate environment, but not all do.
How many rate hikes can we expect in 2016?
Central bankers' median projection for the federal funds rate at the end of 2016 is 1.4%, according to the minutes from the December 2015 meeting. This indicates that policymakers are expecting to increase the rate about four times in 2016. Since they meet eight times a year and each meeting is about six weeks apart, a rate hike is projected to take place every other meeting, or every 12 weeks.
Although central bankers are sticking to these projections, market participants disagree. A segment of the market is expecting only two or three rate hikes in 2016. Inflation is the primary reason for this difference in expectations.
If you believe that inflationary pressures will require four or more rate hikes in 2016, you may decide to move to an intermediate maturity bond mutual fund like the American Funds The Bond Fund of America Class A (ABNDX). Mutual funds like the Lord Abbett Floating Rate Fund Class A (LFRAX), which invests in floating-rate instruments, are also an option in a rising interest rate environment. In case inflation begins to surge, funds like the Vanguard Inflation-Protected Securities Fund Investor Shares (VIPSX) will protect your investment against inflation.
On the other hand, if you believe that inflation will remain suppressed and if you are invested in a long-term bond mutual fund (WHOSX), you might choose to stick to your investment. These funds are exposed to reinvestment risk, but rebalancing can help mitigate this risk.
To continue to monitor the fixed income sector, visit our Mutual Funds page.